Recently we came across the results of a study and article on Portland transit mode-share released not too long ago on the Human Transit Blog, written and managed by professional public transit planning consultant Jarrett Walker.
The article is called "Portland: A Challenging Chart".  Walker and his friend Adrian created a chart which shows the trends of journey-to-work mode-share compared over a time span of 12 years; this data is based off the findings of informational surveys asked by auditors for the City of Portland itself every year:
And, it is shocking to see that transit for all of these 12 years has remained at between 10 and 15% – an effective stand-still.
Since 1997 there has definitely been a reduction in automobile mode share, which is certainly worthy of praise in a world where gas prices are increasing and global warming, attenuated by automobile exhausts, is also becoming a prevalent issue.  Some factors such as the development of bike and transit-friendly development – which do not necessarily require transit – and increase in gasoline prices may have assisted in this decrease – but it appears that transit itself has hardly been a part of this difference.
The more recent surveys taken in November of 2010 [CLICK HERE] and just a few months ago in December of 2011 [LINK HERE] are reporting a continuation in this standstill trend in transit mode-share.  In 2010,  just 12 percent of commuting trips were made by transit (a ~1 percent decrease from the year before) while 67 percent of residents were single-occupancy-vehicle drivers.  These numbers more or less remained the same after the conducting of the 2011 survey; although, notably, the percentage of single-occupancy-vehicle drivers among the distributed population actually rose by 1 percent.
And this makes for a startling reality.  While Portland has been triumphed as one of the most livable and transit-friendly cities in America, serving as role models for other cities – including Surrey – it appears that this notion of transit mode-share hasn't actually gone anywhere.
The most startling occurrence is that this standstill occurs despite the opening of 4 new MAX (Metropolitan Area eXpress, At-Grade Light Rail Transit) lines and the Portland Streetcar service, all within the period of study.  These rapid transit investments, of which all have a combined capital cost spending value of $2 billion US dollars, were all built during the 12 year period covered in Human Transit's analysis of data
The data covers 12 years during which Portland opened four major rail transit projects:
UPDATE – 1 JUN: It is also noteworthy that more than $2 billion in development subsidies (see link) can be considered a part of the LRT system's capital cost.  The extra development subsidies were expenditures are an LRT-related investment that accompanied a development outcome that was expected from the service but unable to be brought on by the service on its own.  Counting this figure, more than $4 billion has been spent for the sake of Portland's MAX LRT service.
Some have suggested that miscellaneous problems including the abundant availability of cheap or free parking in or near downtown Portland may be contributing to the problem by reducing the potential incentives to use transit and increasing the incentives to use other options. (The MAX lines converge in the large employment centre that is Downtown Portland)
But MAX lines also are served by free parking at park-n-rides near adjacent stations.  The use of the MAX over the automobile to complete the trip to work should invoke significant savings over taking the vehicle the rest of the way due to the savings in gas costs; but it seems that in Portland, transit is still not able to attract the motorist from the car despite this.
In Vancouver, surveys have proven that most rapid transit riders take the ride for the service reliability and speed; but in Portland both the level of services and speed provided by the MAX light rail are not very impressive, especially considering the cost it takes to provide such services.  The problems of at-grade, driver-manned LRT as a technology and implementation choice may be problems that are contributing to the lack of increased mode share – especially considering that the biggest transit investments that occur ed during the years of the study were the more than $2 billion in new expansion of the MAX Light Rail system.
MAX trains operate at a maximum average speed of just 19.3MPH (31 km/h) counting stops [28] – not very competitive with direct, point-to-point auto travel; low frequencies of 10-15 minutes, even during peak periods (for comparison, trains on the Vancouver SkyTrain – which some of our readers may be used to – arrive every 90 seconds during peak periods), may also be impacting the attractiveness of the line – and, unfortunately, increasing this frequency would be tough on taxpayers since the MAX already needs to be subsidized due to the high operating costs of light rail [28].
(Notice that operating cost recovery in 2011 actually rose substantially over the past few years, but the most likely cause of this was a fare increase – which does not indicate a change in either ridership or mode-share.)
Other options are often more efficient and convenient to the point where those other options can assist in swaying personal choice.  If and when the other option of getting there is more efficient or convenient, people are obviously going to choose that other option.
When you have a low-capacity light rail transit line that is bound by limitations in speed of service and reliability and also runs fairly infrequently (with any more frequent service not being easily possible because of driver-manned light rail's very expensive operating costs and subsidies as well as the limits of the technology) the choice of transit does not become so viable an option for most people.
Obviously, as population increases, so does ridership – or transit mode-share would be undergoing a constant decline.  In the sense of transit revenue and effectiveness that is certainly a good thing.  But as transit mode-share, which should preferably have increased, isn't going anywhere, this can become a problem for the entire city; this ongoing trend gives off a rather gloomy outlook at the future of Portland.
How can this city be considered to be highly environmentally friendly and sustainable when more and more people are continuing to choose to drive and not take transit?  Will Portland be ready for the problems it will face as a result?
Perhaps it may have to do with generally lower standards being set in America, as one person who commented on the Human Transit article we linked pointed out:
I think the self-congratulatory air you find in Portland concerning livability is due to the fact that it is in America. They pat themselves on the back for doing things that, while exceptional for America, would be considered sub-par and disappointing anywhere else in the world. The bar is set so low in America that even a dwarf could jump it.
In fact, listening to Portland's elected and unelected officials trumpet the city's livability is a lot like watching a dwarf win a jumping contest in some perverse new "special" Olympics. You want to cheer for them, you really do. It's not their fault they were born that way. Nor is it their fault that the competition they are so proud of trouncing is even more inadequate than themselves. So when the gold medal is placed around their neck, a part of you wants to stand up and applaud them for the great effort they have put into life.
But the other part of you can't really say it's impressed. And you can't get over the sneaking suspicion that the whole thing is just a sad, pathetic exercise in helping them to feel better about themselves.
But nevertheless, it is a solidly defined problem and a problem that should be affecting other cities' choices to follow these examples.  Portland is making no significant step forward to sustainable mode-share targets – nor does it appear to be trying to make any active attempt to engage such a shift by improving transit service to improve feasibility (however, the high costs of operating and subsidizing light rail lines may make such an increase challenging).  Portland has no easy solution to this problem, and this is far from sustainable.
In Portland, there is a growing lack of incentive for using transit and it is turning into a serious issue as population grows but the feasibility of transportation options in general doesn't as congestion on roads continues to increase.  When you consider that this is happening after $2 billion in investments that were supposed to encourage change in mode-share by providing additional and more reliable service, it gives a glum outlook on cities that want to follow the rather glorified examples in Portland; including Surrey, rather unfortunately.
Apparently, Surrey's interest in LRT stems from a recent visit to Portland, OR. Surrey Councillor Judy Villeneuve said "city officials were impressed after a visit to Portland, Ore., that it had struck deals with the U.S. federal government and the development industry to help build its transit system, particularly its downtown streetcars."
— Reported by Light Rail Now! – [CLICK HERE]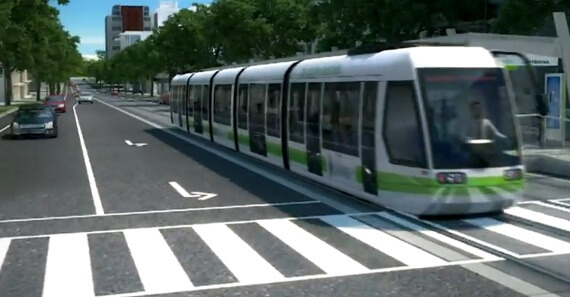 TransLink has actively set a regional target of reducing vehicular mode-share in the Greater Vancouver area to 50% by 2041, and aiming to increase the mode-share of "sustainable" transit options (cycling, walking and transit) to 50% through increases in service viability and attractiveness; the City of Vancouver itself is actually already close to this target with more than 40% of commuting trips having been made "sustainably" in 2007
[66 – see fig 11]
, a number that has likely risen further since the introduction of new bus services and the Canada Line rapid transit service connecting Vancouver with Richmond and the Vancouver International Airport.
TransLink is aiming for the same targets in the South of Fraser region and hopes that the goal will be reached by 2041 (it is a goal that is associated with the future implementation of Surrey Rapid Transit as determined in the recent and ongoing study) – but can it even reach that goal in time with Light Rail?
Light Rail Ineffective: Portland transit mode-share unchanged despite $4 billion+ in LRT spending