Portland Oregon illustrates the benefits of LRT

Portland erected their first MAX LRT line in 1986, and today has a network of 4 lines with 85 stations.Portland has gained $8 billion in new development around these rail stations. They've also seen a 69% increase in the rate of development in station areas, compared to non-station areas along the rest of the corridor.

From the City of Surrey's official LRT plan page – "Rapid Transit Now!"
"Look at what occurred in Portland when they put in at grade rail, they spurred on $31 billion worth of economic development.  So, for those businesses and creating jobs and things like that was really the way to go."

Mayor Watts, from April 2011 State of the City Address at Sheraton Guildford Hotel
There are serious problems with the City of Surrey's use of Portland's MAX Light Rail as an example to boost the image of potential at-grade Light Rail in Surrey, and one of those problems is the immediate assumption that can be brought forward that all of the apparently reported "$8 billion in development" near MAX Light Rail lines was legitimate development that was actually caused by Light Rail.  We would like to iterate this: that is wrong.
First of all, it is very highly likely that the number that has been brought forward is seriously over-estimated.  The problem with some of the claims of how many billions of dollars were spent on nearby development is that they are total numbers in the amounts of any type of development built nearby – and there is no actual defined relation between this value and whether it was caused by transit or not.
One government-funded building supposedly stimulated by the light-rail line was a $5 million downtown parking garage. If light-rail works so well, why is a new garage needed and in what sense did light rail stimulate the construction of that garage?
A research study we quote [1] found that – under the assumed rule that any nearby development counts – a vast majority of the $2.3 billion in investments that were supposedly stimulated by both the Portland Streetcar and Aerial Tram were for government buildings. These subsidies are also confirmed in several other sources we list at [2][3][4][5][6][7].  Some were apparently built in response to executive orders by President Clinton and Oregon's Governor Barbara Roberts that all federal and state agencies should relocate to downtown areas.
But that might not be the biggest issue that comes to face; the truth is that most of the private developments themselves have been subject as recipients of large subsidies. A commission called the Portland Development Commission (PDC) exists to use tax-increment financing and federal grants to help subsidize developments in urban-renewal areas.
Because many of those areas have been in the more recent years been focused on transit zones and corridors, it can be implied that those developments were recipients of PDC subsidies.  In particular, for the $2.3 billion in development gathered by the Portland Streetcar and Aerial Tram in the downtown zones, at least $665 million in subsidies may have been granted through the PDC [1][2].
The larger-scale MAX Light Rail operations were also recipients of such large subsidies.
By 1996 the MAX Light Rail had been operating for 10 years.  Some important city spokespersons were lashing at the lack of the promised development that was expected to have come to the MAX line and area en masse by then.
When Portland's first light-rail line opened for business in 1986, the city zoned much of the land near light-rail stations for high-density development.  Ten years later, city planner Mike Saba sadly reported to the Portland city council, "we have not seen any of the kind of development—of a mid-rise, higher-density, mixed-use, mixed-income type—that we would've liked to have seen" along the light-rail line.
One important spokesperson – the Portland City Commissioner, Charles Hales – actually stated himself: "It is a myth to think that the market will take care of development along transit corridors". Outside of the Debunking Portland study, this reality was also reported in the newspaper The Oregonian in 1996 [7]
For comparison and contrast, after 10 years of operation of the Vancouver SkyTrain, important TOD-grown areas such as today's Metropolis at Metrotown in Burnaby were well into their development phases.  Development continues near there today, indicating continuously low vacancy rates, high demand and a continued need for expansion in that area.  In contrast, Charles Hales was reporting that the majority of whatever had indeed been built near light rail was suffering from high vacancy rates.
During the same year, Commissioner Hales proposed to subsidize the development by offering developers of any high-density housing near light rail stations tax waivers.  The Portland Housing Bureau has a page on the application process for these tax waivers (see [6] or accessible at [CLICK HERE]).
The development finally came, and it came at a huge expense.  A boom in high-density developments overthrew Portland over the next 10 years – and virtually all of those developments were subsidized.  An estimated $2 billion dollars of tax waivers (subsidies) may have been spent for the attraction of transit-oriented development near MAX Light Rail lines by the time those 10 years were up [1][2].
Millions (billions?) of dollars were being spent just to ensure the construction of such transit-oriented development.  These "incentives" have not been eliminated since and without them, little or no transit-oriented development would take place.
As much as 44% of some individual project costs were brought in through subsidies – with subsidies that, once again, may have been necessary in order to even ensure that such a project would even be brought forward. The example at footnote number [3] is for a development that is located along the "Interstate Corridor Urban Renewal Area" – which, we can assume, is centred around the Interstate Ave. corridor which carries the yellow line MAX Light Rail on a north-south route.
Other subsidized support dollars that came to developers aside from the 10-year tax waivers included infrastructure subsidies, below-market land sales, and direct grants from the Federal Transit Association, U.S. Department of Transportation.
One could argue that the tax waivers were not traditional subsidies in the sense that while the government wasn't making taxes, the subsidies excluding taxes were not actually a cause of expense as they were waivers in revenues.  However, that's not the point….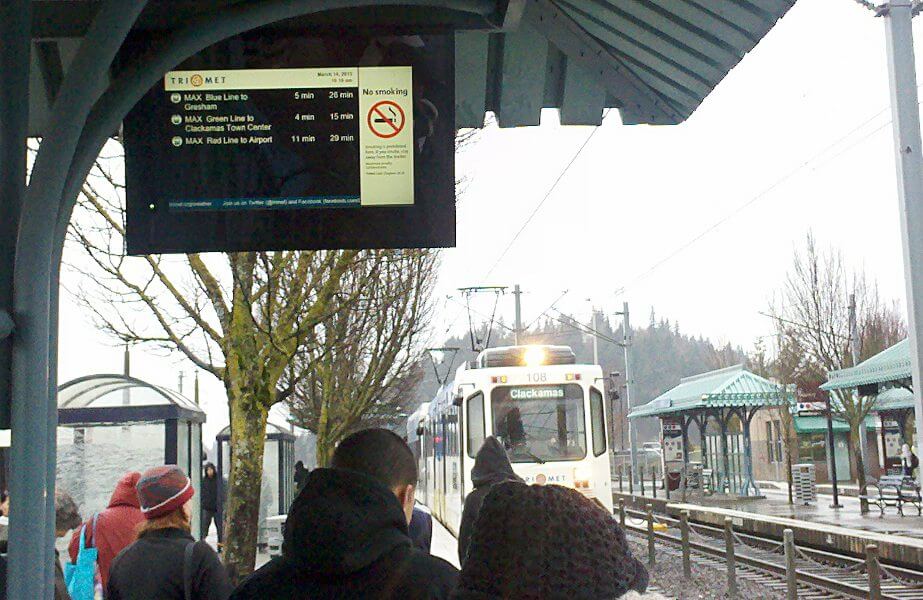 The point is: It was these millions in dollars of subsidies and not light rail that brought on this new development.  One could have also had these development-attracting subsidies and associated development without the expensive billion dollar investments in light rail.
In general, Light Rail has not been making the difference in Portland that we have come to expect and see.  It might have to do with the relatively poor levels of service being provided and the substantially small – if any – improvements that are coming at all from the construction of new MAX line extensions, with MAX lines travelling at an average speed of just 30km/h despite often paralleling freeways – this is barely if even faster than urban arterial road travel.  Despite the billions spent on MAX, transit mode-share in Portland remains at a stand-still.
Surrey is not Portland, and the MAX Light Rail cannot serve as a role model for such similar future implementation here.  Portland does not have to integrate its rail transit system with rail transit systems in other neighbouring cities, something that Surrey has to do.  Surrey is both in a crunch in terms of fast-growing population and fast-growing expenditures; unsubsidized transit-oriented-development must be ensured.
The Portland MAX Light Rail, operated by the Tri-County Metropolitan Transportation District of Oregon (TriMet), should not be considered a good example for Surrey to follow.  If the City of Surrey were really serious about the options and examples being considered and followed, then they shouldn't be pursuing at-grade Light Rail and should be looking to other options.
Footnotes:
The Cato Institute and Randal O'Toole – Debunking Portland: A City that Doesn't Work – Data in Myths #2 (Transit-oriented development) and #3 (development-oriented transit), Pages 6 to 9 [LINK]Some examples – [Reference #78]

Noting that: the statements by Cato on Pgs. 6 to 9 regarding the presence of subsidization for LRT-related development were not effectively addressed in the comparison study "Debunking Cato: Why Portland Why Portland Works Better Than the Analysis of Its Chief Neo-Libertarian Critic" section II. Transit-Oriented Development on page 4, by Michael Lewyn of the Congress for the New Urbanism. [LINK]

Property Tax Exemption examples on Saveportland.org, with statements sourced from Portland City Council Agenda [LINK]

EcoFlats: One More Unsustainable Green Icon for Portland – Cascade Policy Institute [LINK]

Podobnik, Bruce. "Assessing the social and environmental achievements of New Urbanism: evidence from Portland, Oregon." – [Reference #49]

"The Mythical World of Transit-Oriented Development." Cascade Policy Institute.  – [Reference #79]

Transit-Oriented Development (TOD) Property Tax Abatement – Portland Housing Bureau – [LINK]

HOUSING NEAR LIGHT RAIL GETS INCENTIVE – The Oregonian, republished on NewsBank [LINK]
————————————————————-
The SkyTrain in Surrey Initiative is an advocacy movement for economic rapid transit for Surrey.
REPORT: Portland: subsidies and not LRT attracted economic development