There needs to be understanding of the role that rail transit will play in Surrey in the future.  This city needs rail transit not only to more effectively move the people who already are here, but also to accommodate population growth and encourage appropriate development in the right areas.  All of these roles that rail transit will play must be considered if we are to choose another city as a role model for Surrey rail transit implementation, before making that decision of what exactly to implement.
Surrey Dianne Watts has always argued it's important to widen the focus, away from strictly SkyTrain, to include the possibility of streetcars and light rail.
"Look at what occurred in Portland when they put in at grade rail, they spurred on $31 billion worth of economic development.  So, for those businesses and creating jobs and things like that was really the way to go."
(News1130, Nov 2011 [LINK])
This saying by Surrey Mayor Dianne Watts, having been featured on a recent News1130 article concerning the greater possibility of Light Rail Transit in Surrey, is very questionable.  She seems to be very intent on her consideration of Portland's rail transit system as a role model for the provision of rail transit in Surrey.  After all,  the more recent big push for Light Rail started after the Council visited Portland, Oregon in late 2010/early 2011.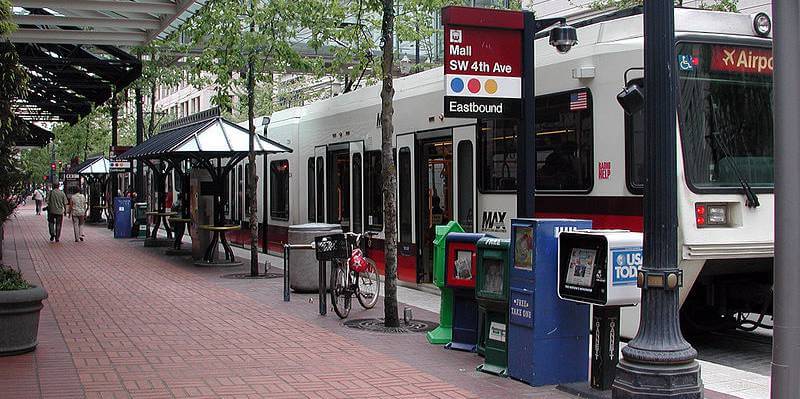 Now, first of all, we would like to point out that her claim is very greatly exaggerated.  According to TriMet themselves (TriMet is the public transportation agency in Portland), the MAX line has brought approximately just $8.2 billion in nearby economic TOD (transit-oriented development)
[47]
.  The 6km Portland Downtown Streetcar, which opened in the summer of the 2001, attracted approximately $2.3 billion in development after 6 years
[48]
.  This combined figure is well short of the $31 billion figure that Mayor Watts claims.
What many people don't know is that the majority of this approx. $11 billion in development could not have possibly been implemented without the spending of several billion dollars in tax waivers (subsidies), in order to attract the development onto the new line.  This is not something that has been ongoing since the line began operating, either.  In 1996, a City Commissioner finally convinced the Portland City Council to start offering developers tax waivers for any high-density housing built near light rail stations; and while the development came, it came at a huge expense.  An estimated $2 billion dollars of tax waivers (subsidies) were spent for the attraction of transit-oriented development near MAX Light Rail lines by 2007: an expense of an average of $180 million every year [48].
When Portland's first light-rail line opened for business in 1986, the city zoned much of the land near light-rail stations for high-density development.  Ten years later, city planner Mike Saba sadly reported to the Portland city council, "we have not seen any of the kind of development—of a mid-rise, higher-density, mixed-use, mixed-income type—that we would've liked to have seen" along the light-rail line.
It is also notable that despite the subsidies, vacancy rates are often high, particularly in areas designated for shops [48].  This shows that the lines have actually failed to attract significant retail development, something that Surrey is trying to focus on within its downtown core.
And while the development has come, despite the high cost, there seems to be no guarantee that the people choosing to live in this development are actually making use of the Light Rail line as their primary choice for transportation.  Nearly two-thirds of residents in the new transit-oriented Orenco neighbourhood (located west of Portland), built upon an adjacent MAX Light Rail station, list driving to work alone as their exclusive form of commute.  Orenco residents rank last among the four neighborhoods explored in a study on two other transit measurements: just 15 percent of them consider mass transit their exclusive commute mode, and just 9 percent ride it at least five times a week. [49]

While such transit-oriented development has come, it can be argued that the MAX is more of a sprawl promoter than a compact TOD promoter.  Tri-Met insists on building large park-n-ride lots with ample free parking along all MAX lines, rather than supporting its MAX LRT lines with an adequate local bus network; although the overall transit system's low fare recovery ratio of 22% [50] (less than half of TransLink's rate at over 50% [51] – one of the best in North America) could be blamed for this, as bus service is somewhat more expensive to operate when there's lower ridership.  Recent (past year) trends are showing that Portland's MAX ridership is growing, but bus ridership is reducing [28].
It is also noteworthy, however, that despite all this free parking, it seems that actual congestion levels along several Portland roads are not being reduced.
Between 1986 and 1995, traffic counts on a freeway in Portland increased by as much as 37 percent. This happened despite the introduction of the then-new Banfield (East-Side) MAX light rail line in 1986, and the provision of free parking at a major park-n-ride alongside the freeway [39].  The Portland MAX, which was designed to and currently operates at an average speed of approximately 31km/h [51], is simply not competitive with the automobile.  For comparison, the Vancouver SkyTrain lines operating on the Bombardier Innovia ART system are much faster than the MAX Light Rail.  The Millennium Line operates at an average speed of 45.1km/h [52], while the Expo Line operates at an average speed of 44.6 km/h [53].
Between 1986 and 1992, Portland area traffic congestion grew faster than other Western cities, including Seattle, which up until recently was not serviced by any rail transit system. [50]
According to TransLink, 84 percent of trips within the Surrey Rapid Transit Study area have been found to involve use of the automobile, while only 8 percent make use of transit. [23]  84 percent is a number that drastically needs to change for the better in the coming years.  Many primary roads in Surrey are operating over their designed capacity, and this is not necessarily going to get any better as the population of the city grows, faster than every other city in British Columbia.
Surrey is not Portland, and the MAX Light Rail cannot serve as a role model for such similar future implementation here.  Portland does not have to integrate its rail transit system with rail transit systems in other neighbouring cities, something that Surrey has to do.  We need to ensure that, in addition to required increases in transit service to address growing demand, that a change in mode share (TransLink is aiming to reduce the automobile mode-share to 50% by 2041 in the South of Fraser region [23]) is brought forward by the implementation of a competitive, reliable and successful rapid transit system.  Why should this Light Rail system, which has failed to do exactly that, serve as a role model for rail transit expansion in Surrey?
——————————————
References: Please visit THIS PAGE [LINK] to view our unified reference list
——————————————
Have you been convinced?  Are you interested in our cause?
Support us at SkyTrain for Surrey today – https://skytrainforsurrey.org/
——————————————
Portland, OR: the wrong role model for Surrey Rail Transit