The study definitely found and decently presented several interesting facts and truths; it was found that Surrey had an urban area net density of 25.4 persons per hectare, which is 23% higher than the regional net density of 20.5 persons per hectare.
It seems, however, that the study was written almost as if from a partisan point of view.  It was quick to completely exclude SkyTrain as a rapid transit network option for Surrey's major corridors.
The study implicates that "Based on lifecycle costs, trip lengths and GHG reductions, light rail represents the most appropriate investment opportunity for communities to support overall vehicle trip reductions."  And yet, the study's sourced comparison values are flawed, oddly positioned and unresistingly inaccurate; and aside from the fact that inaccurate values are presented, none of these values are representative of the situation at hand.  The study has hardly any case for Light Rail.
In fact, the mere source that the article uses as a basis that light rail is "better" are some statements quoted to Dr. Patrick Condon, a UBC professor of landscape architecture and according to the study, a Light Rail "Expert".  Dr. Condon had suggested that light rail is among the most cost effective transportation available. He estimates re-establishing light rail on the existing Interurban Right of Way would "cost approximately $6 million per km compared to SkyTrain's $100-140 million per km".
However, the reality about his assumptions and studies is that they are exceptionally unrepresentative and inaccurate for use in comparison.  We are not going to argue with the $6 million per km assumption for a LRT service along the corridor.  He failed, however, to recognize what a realistic cost for SkyTrain implementation would be closer to on a pre-existing right of way.
Costs of $100 to $140 million per km more closely describe implementations with many special provisions that inflate cost (such as bored tunnels and cut-and-cover segments under streets).  Although we do recognize that a fully grade-separated, high capacity Rapid Rail Transit (i.e. SkyTrain) implementation should not be the primarily examined choice for such a route, a SkyTrain rapid rail transit system on a pre-existing corridor would cost nowhere near the $100-140 million per km that he describes.  The construction of such a line on a pre-existing right of way would cost well below $65 million per km (this is the approximate full cost for an elevated SkyTrain implementation in an urban area (i.e. over roads and properties) in Metro Vancouver in 2011 dollars [9][10][12][13]).
While many of the facts presented can certainly be trusted and are very well sourced, it should be absolutely certain that the study's LRT recommendation cannot be trusted.  There was no mention of any realistic cost for an urban implementation of LRT that will be required for Surrey.  There has been no detailed evidence and reasoning provided on why light rail would be the most appropriate investment opportunity.  Furthermore, there is evidence to prove that light rail will not support vehicular trip reductions due to an uncompetitive nature of service and possible unreliability.  Options for SkyTrain (grade-separated, automated rapid rail transit) were quickly decimated from the study through the use of data that, as it turns out, is inaccurate.
The failure to provide credible sources and comparisons and the blunt, groundless exclusion of SkyTrain are inexcusable evidence that the study may be politically biased, and was most certainly released with an intention to mislead people into thinking that Light Rail Transit is the best choice for this city.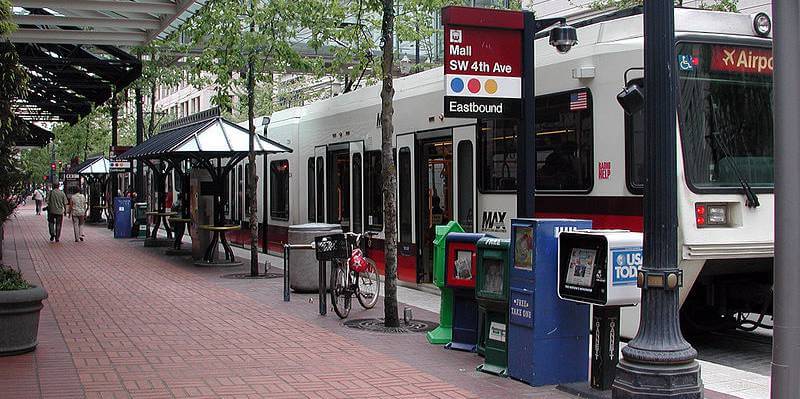 Reality points to the fact that Light Rail may not be the best choice.  With Light Rail propaganda headlining many local newspapers, many citizens of Surrey have not been given the opportunity to recognize the successful option that SkyTrain truly can become for the City of Surrey.  SkyTrain cannot be excluded from the debate, especially when considering that it has been deemed the superior option across all comparable categories of consideration including speed, operating costs, long term maintenance, integration ease, long term community benefit, passenger capacity, on time performance, frequency of service, and service level flexibility.  On the other hand, several at-grade light rail systems across North America have been well behind on many of these fronts.
It is mentioned through the study that in consultations for the 2008 Surrey Transportation Strategic Plan, 88% of those consulted agreed that "transit should be as convenient and attractive as driving a car" [55].  This may explain a currently relatively low 6.3% transit mode-share in Surrey, according to the study.
Public consultation for the Transportation Strategic Plan identified poor transit service as the top issue requiring attention. Furthermore, 88% agreed that, "Transit should be as convenient and attractive as driving a car and 12% (~50,000) of the public did not have unhindered access to a car.
The extensive study recommends a method of road pricing to raise funds be observed as a possibility to help fund increases in transit service in the South of Fraser area, including Surrey.  It is certainly true that Surrey transit users pay more per capita than other municipalities in Metro Vancouver for transit; but if Surrey citizens were to pay such a new and expensive tax, then alternative transportation options must already be competitive in cost, reliability and level of service to justify any costly investments.
The fact stands: Surrey Citizens want competitive transit.
TransLink has been ambitious on creating a departure from the number that is 6.3%, aiming to change modal share so that 50% of trips in the South of Fraser are made by transit, cycling and walking (up from 16%) in 30 years [23].  If TransLink is to successfully reach these modal share targets by 2041, then the provision of an encouraging service competitive with automobile travel must happen.  With an introduction of on-street, at-grade Light Rail service this might just not happen due to several potential capacity and reliability issues.
There must be a place in the future of Surrey for SkyTrain expansion.
——————————————
References: Please visit THIS PAGE [LINK] to view our unified reference list
——————————————
Have you been convinced?  Are you interested in our cause?
Support us at SkyTrain for Surrey today – https://skytrainforsurrey.org/
—————————————–
SkyTrain Dismissed: Downtown BIA Shifting the Playing Field?