From Daryl Dela Cruz, Better Surrey Rapid Transit Campaign Director
Why does the City of Surrey have a Mayor that seems to have no idea of what she can do as mayor? Maybe I should be Mayor, because I apparently know more than she does about how cities can control land use.
A recent Vancouver Sun issue mentioned a comment by her on one of the reasons she is in support of Light Rail Transit over SkyTrain in Surrey. This is the comment:
Surrey Mayor Dianne Watts, who is pushing for light rail transit in her city, said she doesn't expect to see the same problems in Surrey as Coquitlam or Burnaby, mainly because at-grade rail won't bring the same densification pressures. Also, the corridors designated for the proposed light rail lines are already a mix of high density residential and commercial.

"We will densify but we're not going to have to tear homes down," she said. "Where we've got our corridors, we have enough space to implement at-grade rail."

She said that's one reason Surrey wants at-grade light rail rather than the elevated SkyTrain technology. "We wouldn't have to get rid of housing."

From the Vancouver Sun – In Metro Vancouver, densification is the price paid for transit [LINK]
Popular blogger Paul Hillsdon said this too, in a recent article he posted on Civic Surrey.
My point has been that it is a question of how much density a community is willing to have. LRT will bring mid-rises, while SkyTrain is almost guaranteed to bring towers.
This myth has to be ended. There seems to be a common (correction: FAR too common) consensus that "LRT will bring mid-rises, while SkyTrain is almost guaranteed to bring towers." This is completely false. What land use is attracted to rapid transit and then actually built should have nothing to do with what mode-type of rapid transit is built, because everything can be restricted by the city's land use policies. If an extension of SkyTrain in Surrey creates a push for densification (i.e. developers are encouraged to build skyscrapers all along the line and launch rezoning applications to see if the city will allow it), the City of Surrey does not have to approve these proposals and can restrict the maximum density of zoning along the line as it pleases.
For example: while SkyTrain has the potential to attract towers, SkyTrain also has the potential to attract mid-rise development if that is what the city wants, and restrictions and control of developer applications by City Council can help ensure that mid-rise developments are what is built around SkyTrain stations. The City of Richmond has been doing a great job at formulating an innovative land use plan around downtown Richmond and its Canada Line Stations that controls development proposals to ensure that certain stations create distinct districts around each one of them (i.e. commercial districts oriented around a certain culture or aura).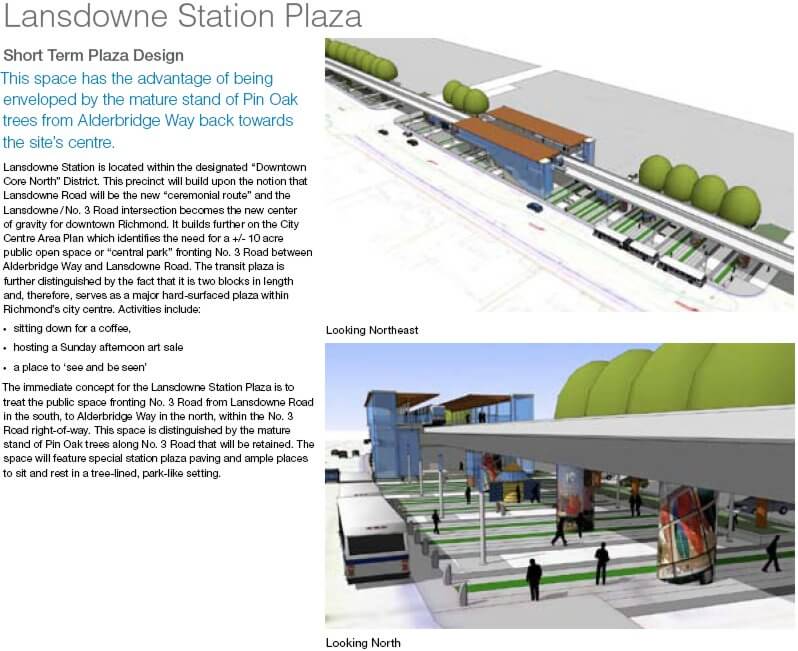 There's a reason that many stations on the current SkyTrain system such as 29th Avenue, Nanaimo Station, and Lake City Way continue to be surrounded by low-density developments. The city which the SkyTrain line is passing through has not made the necessary modifications to land use zoning policies in these areas – and while better opportunities with lower developer risk for transit-oriented development still exist around many SkyTrain Stations and high-density areas (such as Surrey City Centre itself), developers have seen no need to push for any rezoning applications at these locations because not only will they face the cost, but they may face opposition from the property owners they will displace.
In my opinion, Mayor Watts is just saying this in desperation, because she is running out of legitimate reasons to advocate for Light Rail over SkyTrain. I have been debunking everything. I'm the challenger to her proposal that, as she pointed out back in her April 2011 State of the City speech, did not exist. Tonight or tomorrow, I'm going to be releasing a huge response to the 536-page Surrey Rapid Transit Study final analysis that should put a nail in the coffin for Light Rail Transit as a feasible solution in any way for the City of Surrey.
Mayor Watts, even Paul Hillsdon has changed his mind and is willing to endorse SkyTrain. It's about time that you do the same.
DEBUNKING MYTHS: "LRT will bring mid-rises, SkyTrain will bring towers"