An atmosphere of doubt has surrounded the viability of SkyTrain in Surrey under a false perception that at-grade Light Rail Transit (LRT) will help shape and build communities – whilst SkyTrain expansion will not, supported by quotes from advocates, city officials and other LRT supporters.  Even Dianne Watts had more than a few statements in support of this doubt, such as:
"I don't want to have SkyTrain cutting our communities in half — that is going to destroy our city" – Mayor Watts, 2011 State of the City speech
and:
"It's not just about moving people as far as you can from A to B; it's about moving people but also building a community." – Mayor Watts, 2011 State of the City speech
Yet it seems that the community-friendly integration and community-building abilities of SkyTrain which, contrary to many claims, do actually exist, seem to have been overlooked.
The City of Coquitlam has just released a concept for street enhancements that outline the very high level of community integration that can and will accompany the Evergreen Line SkyTrain line.
The Evergreen Line has been made into a critical element of the Coquitlam City Wide Official Community Plan. The concepts details the City's opportunity to shape the functionality and livability of the three primary corridors impacted by the facility.  The street-scaping work will see to it that pedestrian crossing distances are reduced while at the same time traffic mobility is improved, ensure that space under the guideway and near stations is used effectively, and respond to the new levels of demand for multi-modal access to station areas and linkages along the corridor and into the community which the Evergreen Line will create.
The full document outlining the concept, including pictures, can be viewed at [CLICK HERE]. Some pictures have also been mirrored below.
A multi-use pedestrian and bike pathway will complement the majority of the Evergreen Line guideway on the side of the street:
It is noteworthy that the separation of the SkyTrain guideway allows the current road width and pedestrian crossing distance can be kept – and, in many ways through optimization, reduced:
The placement of diagonal parking directly under the guideway in such manner would be an extremely efficient use of space: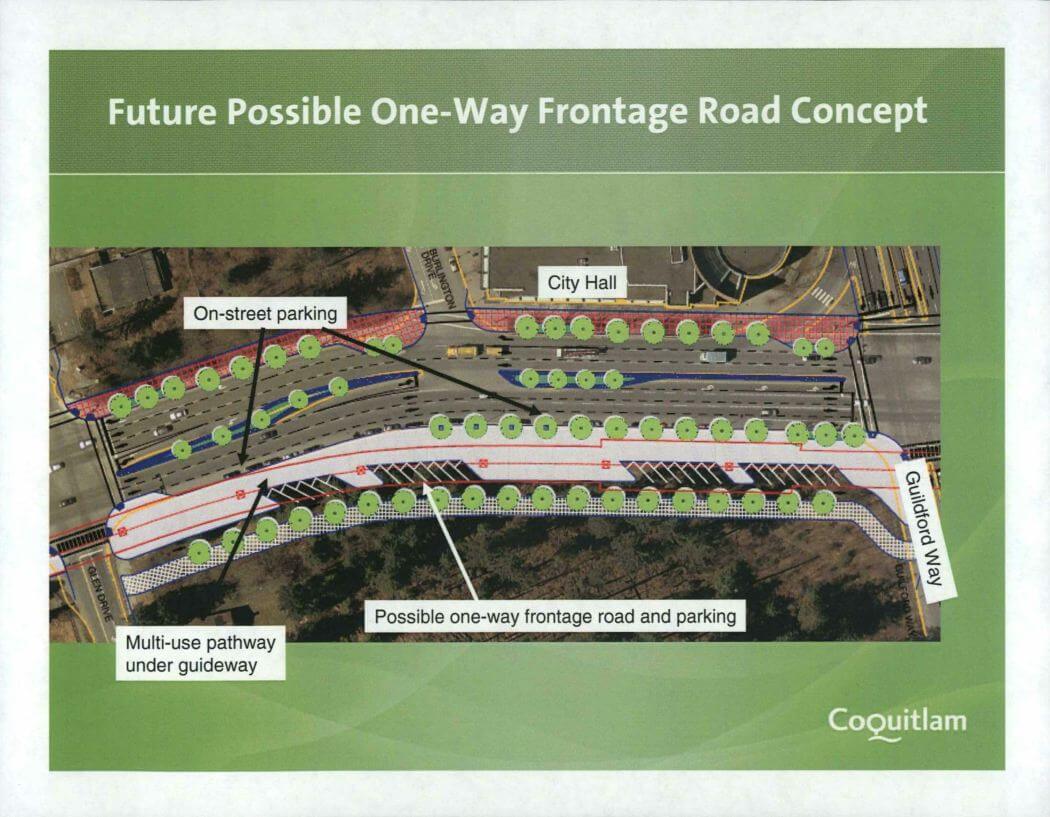 Coquitlam releases SkyTrain community integration concepts