UPDATE – Feb 26, 2016 – Surrey, BC
The City of Surrey has expressed its intent to extend rapid transit to South Surrey & White Rock, as reported in a recent a news release by CKNW. However, the City of Surrey has made no changes to its website map to clarify its commitment to rapid transit to South Surrey.
We note that in addition to the removed BRT link, the City has, without warning, removed 4km of proposed Light Rail and 3 previously proposed Light Rail stops at: King George Blvd & 64th Ave; King George Blvd. and Highway 10; and 104th Ave. and 156th St., all of which were present in a previous version of the rapid transit map used by the city.
SkyTrain for Surrey encourages all observers to continue regarding the lack of clarity as to whether South Surrey will get rapid transit to be a major issue. We are now raising new questions after City responses, including:
If the City is supporting bus rapid transit to White Rock, why is the city only promoting the Light Rail part of its ultimate rapid transit vision for the city?
Also, see our Response to "misinformation" claims by CKNW.
---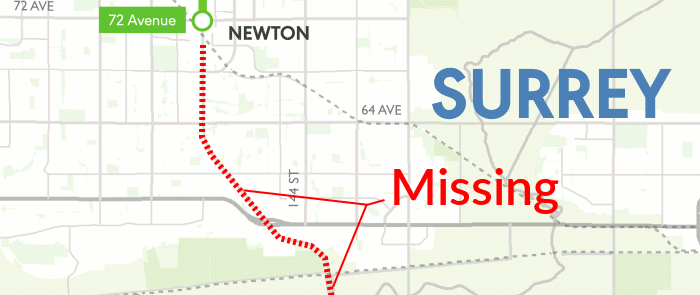 IMMEDIATE RELEASE – Feb. 24, 2016 – Surrey, BC
Without warning, the City of Surrey has removed rapid transit service to White Rock and South Surrey as part of its city-wide Light Rail Transit vision.
SkyTrain for Surrey notes to supporters and observers that the latest LRT network map on the City of Surrey's website no longer includes a Bus Rapid Transit (BRT) link from Newton Exchange to White Rock Centre, removing 14km of rapid transit service on King George Blvd. and 152 nd St.
Daryl Dela Cruz, our founding director, said:

"This sudden, unexplained exclusion of an entire part of the city from future rapid transit shows that choosing Light Rail technology was never about reaching the most people. It is technology-first thinking, with no dialogue around potential issues.
The addition of this issue brings the amount of major shortfalls/issues we identified in the LRT proposal from 14 to 15. Other issues we identified included high operating costs, increased congestion, construction impacts, and an expected net increase in greenhouse gas emissions.
SkyTrain for Surrey is the leading voice opposing the proposed Surrey Light Rail Transit project. Our vision for Surrey for a Bus Rapid Transit and SkyTrain network, which would cost the same to build as the proposed LRT, includes an extension to White Rock Centre, with no transfers at Newton Exchange. More than 1000 people have signed our petition, urging a switch from Light Rail technology.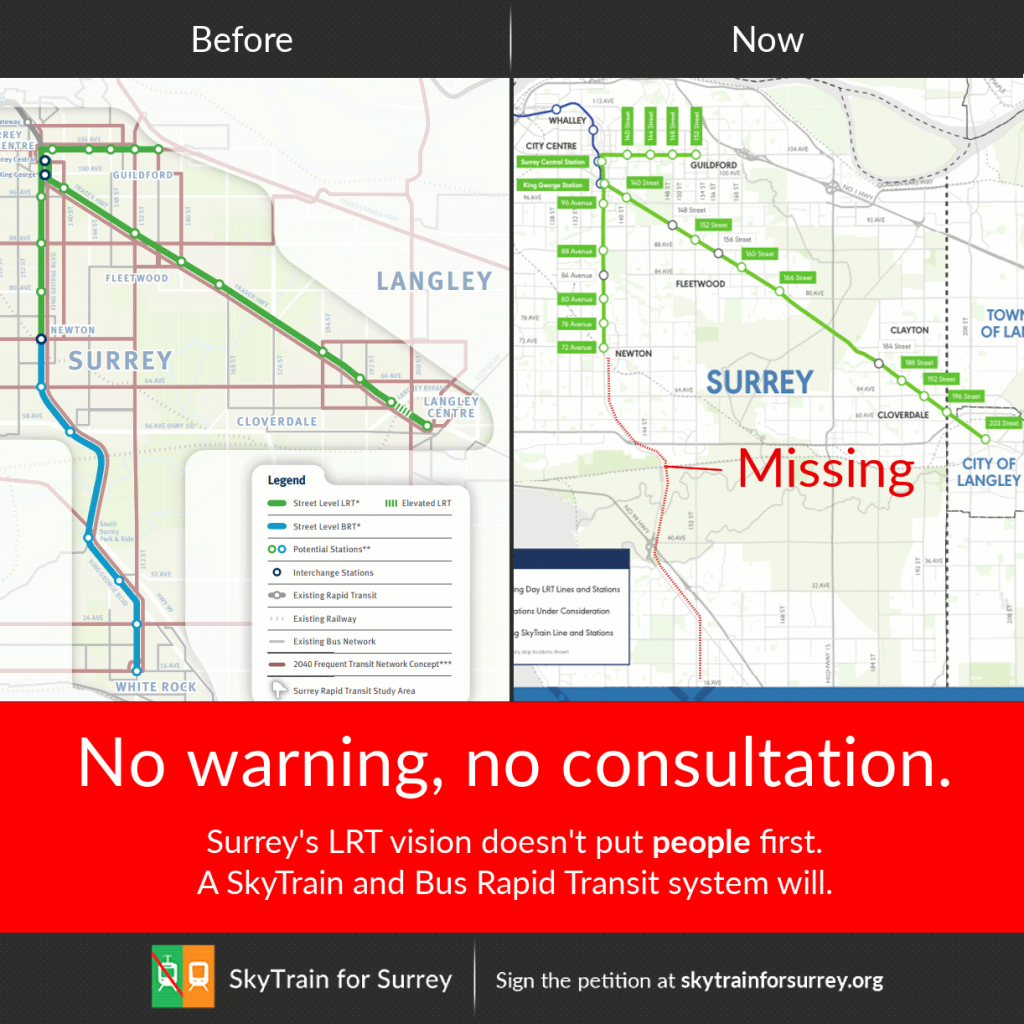 Click here for the City of Surrey's LRT network map showing no rapid transit extension to White Rock & South Surrey (via web.archive.org)
---
About SkyTrain for Surrey
SkyTrain for Surrey is a local grassroots organization calling for a SkyTrain and Bus Rapid Transit (BRT) network instead of the currently-proposed on-street Light Rail system in Surrey.
Our campaign directors: Daryl Dela Cruz (Surrey, chair), Benedic Dasalla (Surrey), Jacky Au (Surrey), Spencer Whitney (Langley)
For further information
Daryl Dela Cruz, Campaign Chair, Phone: +1 604 329 3529, E-mail: [email protected]
Surrey deserves better
Help us make SkyTrain and BRT a reality
Latest news
By skytrainforsurreyadmin  /  February 26, 2016
By skytrainforsurreyadmin  /  February 24, 2016
By skytrainforsurreyadmin  /  February 22, 2016
By skytrainforsurreyadmin  /  February 12, 2016
By skytrainforsurreyadmin  /  February 10, 2016
By skytrainforsurreyadmin  /  January 18, 2016
City LRT vision excludes South Surrey & White Rock