We have scored a major victory in the battle for better Surrey transit.
The oncoming transit referendum (the Metro Vancouver Transportation & Transit Plebiscite) had been centered on a 10-year-plan crafted by the region's Mayors, that naturally pushed Light Rail Transit for Surrey and the Langleys. The initial intent was to lock future transit funding to the proposals in this plan (including LRT) to the extent that the tie-in was written on the referendum ballot. The provincial government has amended the referendum ballot to remove this preference. Here's a comparison between old and new: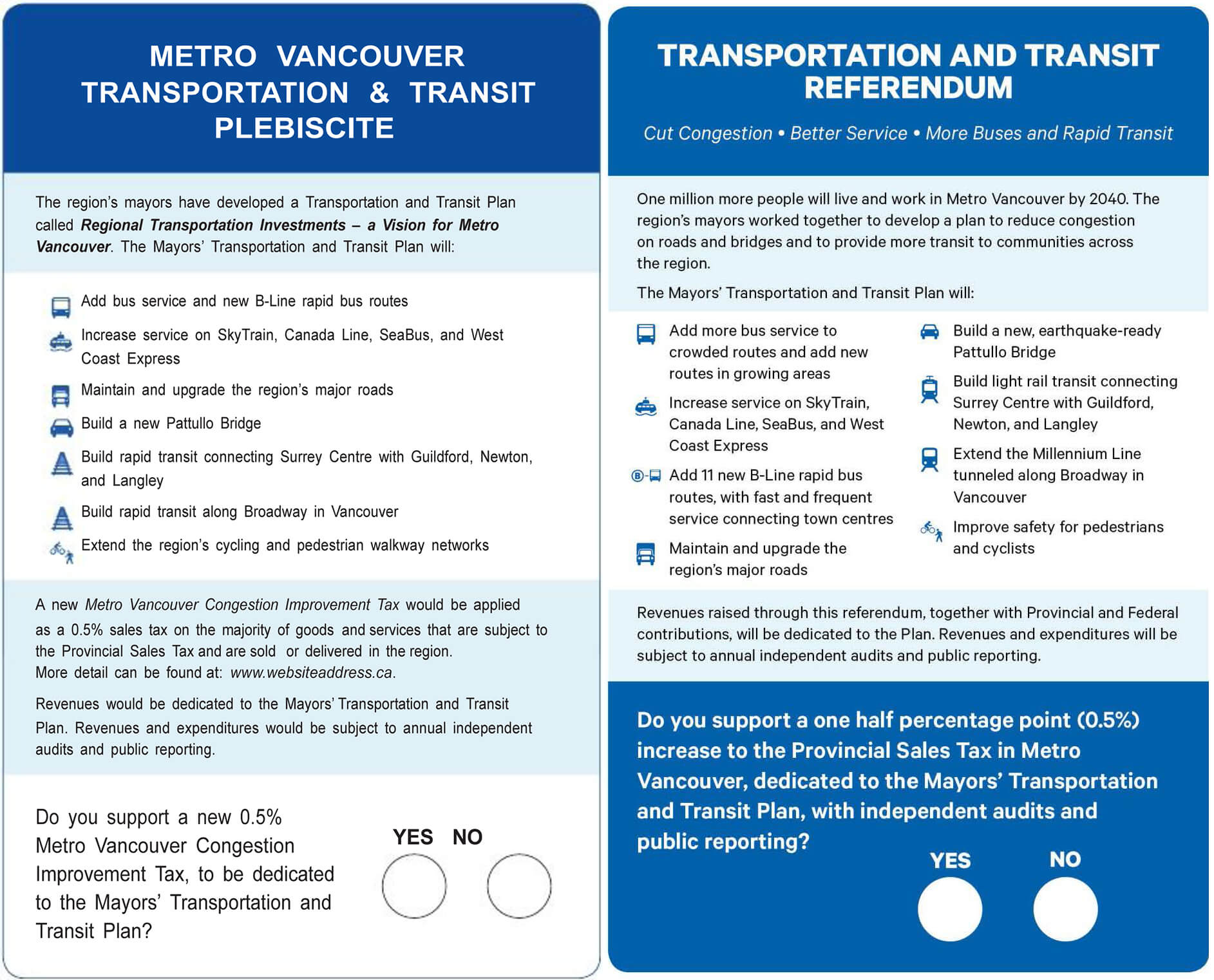 "Build Light Rail Transit connecting Surrey" has been changed to "Build rapid transit connecting Surrey", a neutral description that does not center on any transit technology and leaves room for the proposal to change to a different one.
Additional info:
The provincial transportation minister has additionally maintained that the final decisions on Surrey rapid transit funding will be a matter of the project's business case, not the referendum question. Our campaign head, Daryl Dela Cruz, confirmed this with the Minister in a Twitter conversation during the consultation process for a new provincial transit plan last year, before this amendment was made. Tweets below:
@daka_x All federal & prov capital investments require solid business case – no different for major transit projects in metro #bconthemove

— Todd Stone (@toddstonebc) November 18, 2014
We applaud the provincial government for keeping the Surrey rapid transit debate open, and hearing our concerns about the Surrey Light Rail proposal.
TransLink's rapid transit study found a negative business case for LRT (a less than 1:1 benefit-to-cost ratio). Meaning the city's continued push for LRT is putting any hope of quality rapid transit in Surrey in jeopardy. We have been pushing for an alternate vision that builds a SkyTrain extension and bus rapid transit for the same cost a proposed LRT, resulting in 2x the ridership and transportation benefits. See link below:

This amendment is a major victory in the push for better Surrey transit. We've been relentless in reminding decision-makers and residents that proposed ground-level Light Rail in Surrey creates more problems than it solves, and results in benefits so minimal that even transit riders won't be saving any meaningful amount of time or seeing an improved quality-of-life in Surrey. See link below:

We thank you for your support, and would like to reiterate that our push for better transit is continuing. We will shortly be releasing a statement on the transit plebiscite (including a "yes" or "no" position) as well as comments regarding the ongoing matters in Metro Vancouver.
Province removes Light Rail lock-in for Surrey from referendum ballot