Light Rail Transit (LRT) ridership in Portland, Oregon has for whatever reason dropped this year.
TriMet has published new ridership data for the month of June 2012: [CLICK HERE].  TriMet also conducted a media release about these numbers, viewable at [CLICK HERE].  While TriMet reported that the transit system has reached a record ridership, this has not been a result of ridership increases on LRT.  Ridership on LRT decreased for the year.
Increases in region-wide bus ridership as well as a large 7.4% gain recorded on the WES commuter rail contributed to any increases.
While the MAX LRT's overall boarding counts were reported to have increased by 2%, the numbers posted on the page and in the ridership data PDF appear to show a generally different trend in actual MAX ridership: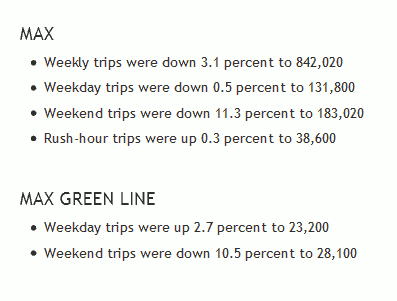 The MAX Green Line (probably given separate measurements given its status as the newest MAX line) saw weekday boarding rides rise by 2.7%, but this is the only significant increase reported in MAX ridership numbers.  Rush-hour trips system-wise rose 0.3 percent to 38,600, but this is not very significant.
The most significant facts to point out from this data are that weekly boarding rides went down 3.1%%, while total weekday boarding rides were down 0.5% overall and weekend boarding rides took a sharp 11.3% drop.
As a result, the MAX continues to be outperformed by SkyTrain's Canada Line.  The new count of weekday boarding rides puts the entire 84 km MAX even further behind the 19 km SkyTrain Canada Line in weekday boarding counts.
Portland: LRT ridership drops; Canada Line continues to outperform