[youtube=
http://www.youtube.com/watch?&v=InfnxRkximI
] You may have heard earlier this winter of the prominent opening of a new Safeway as part of a retail complex in New Westminster, recently built adjacent to New Westminster SkyTrain Station.  The new development is notorious in that it integrates more than 200,000 square feet of retail space directly with the New Westminster SkyTrain Station on redeveloped land, while the same development is also home to three high-rise towers that contain 1,059 residential units, forming an effective Urban Transit Village.  7 bus lines connect to the SkyTrain Expo and Millennium Lines at this station.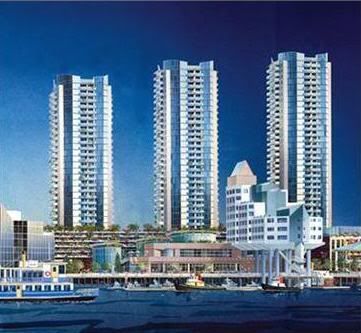 The new development, which is being integrated with a 25-year-old SkyTrain station and a former terminus for SkyTrain, is nearly complete.  Prominently, a Safeway grocery shopping centre opened on the upper level in early December, being just seconds away by foot from the SkyTrain station platforms themselves.
Aside from that, there's a lot more retail space on the new Plaza 88 development; Plaza 88 will be home to multiple tenants including Shoppers Drug Mart, CIBC, A&W, Wind Mobile, a 10-theatre movie complex called Landmark Cinemas, and other restaurants including branches of Subway, Megabite Pizza, A&W and Togo Sushi.  The majority of the retail is located along a new elevated pedestrian walkway that is positioned right below the existing SkyTrain guide-way.  There is access available from the ground level through the existing New Westminster SkyTrain Station entrance as well as through a new multi-level parking garage that also acts as a small-scale Park'n'Ride.  The new walkway is also integrated into an existing road bridge over a section of railway tracks and Columbia Ave, with the new retail walkway connecting directly to the sidewalk level of that viaduct.
This is an excellent example of how a development can be designed to integrate exceptionally well with rapid transit implementations akin to SkyTrain (i.e. grade separated).  Daryl Dela Cruz, the founder of SkyTrain for Surrey, considers the new Safeway to be one of his new favourite stops on the SkyTrain.
"I often visit the Safeway on the way home to Surrey if I am ever coming from Vancouver in the evening to stop for a bite to eat at the cafe/deli, or perhaps a refreshing drink from Starbucks Coffee – and eat there while also able to access free wireless internet amenities as provided at every Safeway and Starbucks location.  I love that you can – literally – walk from the train to the Safeway's doors a matter of seconds.  It's the perfect stop."
He expects that business at this Safeway will be relatively successful, nothing that the location of this new Safeway is really convenient in that it's very close to an intersection of SkyTrain lines, where you can expect a lot of traffic to be going through.  One could expect as much as 100,000 people to be passing through the station in a day, going by passenger boarding stats.
What he is more impressed about, however, is how excellent the integration, planning and design of the development turned out to be – coupled with the fact that the development pretty much came out of nowhere in an area that was, until recently, not as explicitly well developed.  He has noticed that the story can be compared to Surrey's in several ways.
Indeed, it could be.  These are some pictures of the area before the more recent development arrived: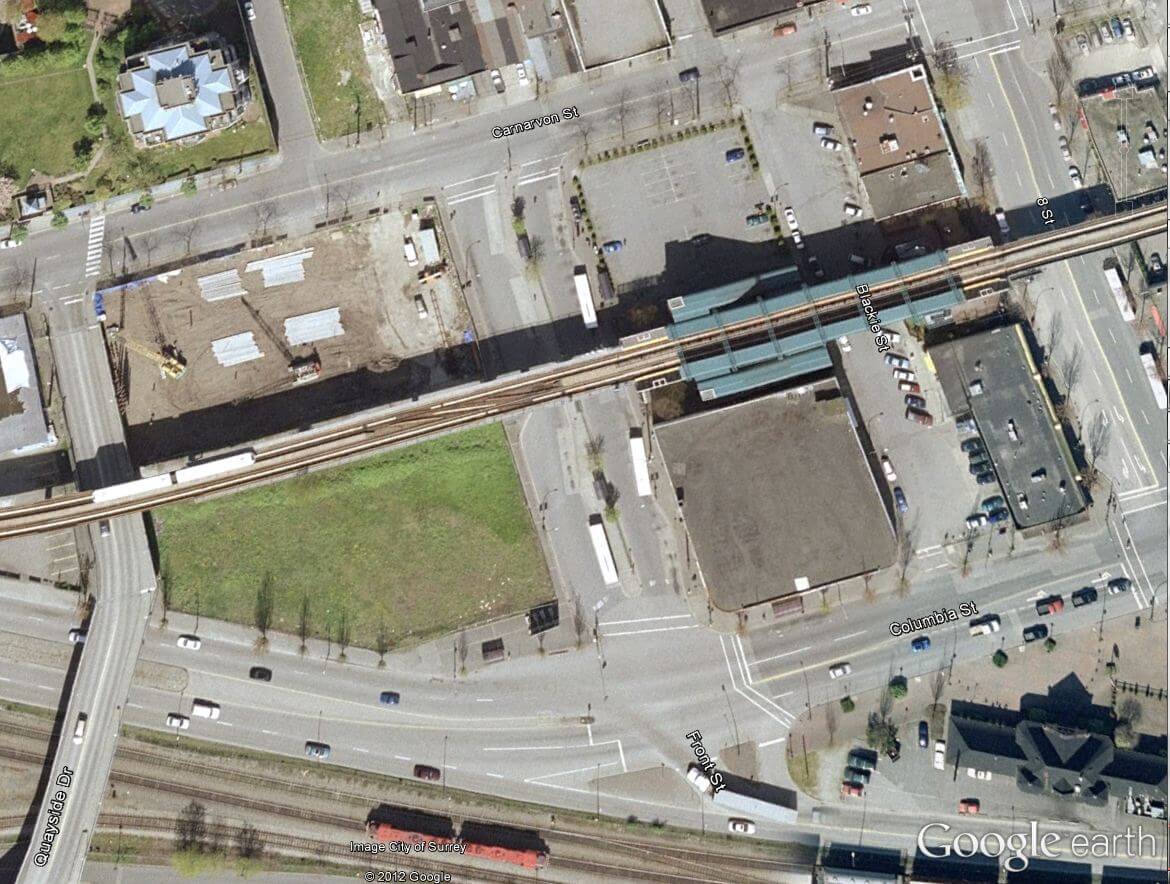 Noticed some similarities?  Here are some shots of the Surrey Central SkyTrain area and the Surrey City Centre today: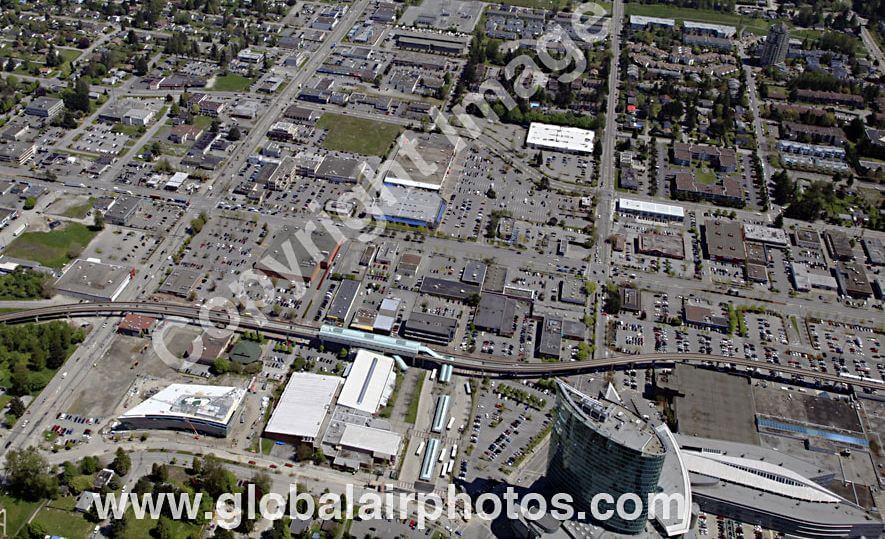 Not indifferently in Surrey is the presence of premature development.  Parking lots still make up the majority of what is supposed to be a City Centre, and not unlike previous renditions of New Westminster Station, a large bus loop takes up a lot of space and serves a majority of radiating routes.
To top off the similarities, a Safeway grocery store actually exists today to the North East of the station!  However, it is not within a very close walking distance of the SkyTrain Station and bus loop and thus cannot be expected to be visited by many of those who must transfer between SkyTrain and bus, and get into long lineups for bus boarding right away or deal with the risk of a longer and more uncomfortable wait and trip later on.
The lack of development despite the presence of SkyTrain for more than 17 years could be attributed to the lack of through SkyTrain connections, increasing through traffic by transit and walking and therefore improving investment opportunities for mixed-use, integrated, high-density developments.  The 2002 completion of the Millennium Line which introduced a second SkyTrain spur past New Westminster Station was likely responsible for the more recent redevelopment boom in the adjacent area, which includes Plaza 88.
Similar opportunities do exist in Surrey – while there so far been no attempt to integrate the SkyTrain stations with any sort of high-density development, there are opportunities to do so.  For example, a new platform entrance on the North Side could integrate with a second level platform above the street but below the SkyTrain tracks with mixed-use retail space towered over by residential and office development, not unlike what is going on at Plaza 88.
However, these opportunities require investments that attracts the investors.  SkyTrain's capacity and consistent reliability secures foot traffic by ensuring a guarantee that you don't have to be waiting for several minutes in the cold for a bus that may fill up before you are even able to get to the door, meaning you have to wait for another one.  What this does is it gives people time to go out of their way to explore surrounding retail and know that they will be able to get onto a train again and arrive home without significant delay.  Not indifferent is the case during the morning rush hour.  More people will ride a transit system that is convenient and worth the money.  More people also give developers opportunities to invest in such mixed-use, high density development such as Plaza 88.
Most politicians in Surrey seem to be convinced that at-grade Light Rail will not only do the same thing but will do it better.  Unfortunately, because Light Rail is only capable of moving less people and attracting less people onto transit due to technological and capacity-related constraints, a lot of that opportunity is missing versus the SkyTrain implementation.  Light Rail Transit will barely if at all be able to move people faster to their destination, and a lot of the increase in travel time may be related to forced additional transfers from buses onto an LRT line due to cost-saving (or limitation-bearing) service cancellation for portions of bus routes on that corridor.  These limitations were detailed in several previous articles and presentations by SkyTrain for Surrey.
The combination of a well planned SkyTrain service with accompanying local bus service on the same corridor can provide similar opportunities on the corridor and better opportunities in concentration areas such as stations, the City Centre and Town Centres.
Several other such integrated developments may be appearing on SkyTrain lines over the next few decades.  One at Richmond, the expansion of the popular Aberdeen Centre mall which will integrate with the adjacent Canada Line Station, is already well under construction.
These developments, alongside Plaza 88, need to be observed by the City of Surrey and transit planners as good examples for the opportunities that additional SkyTrain in the South of Fraser can and will provide for economic development and increased density.
Urban Integration with SkyTrain: Plaza 88 – An Example for Surrey