IMMEDIATE RELEASE – Feb. 12, 2016 – Surrey, BC
SkyTrain for Surrey has called out the City of Surrey for misleading city residents again, in its claim that an Ipsos Reid poll sampling only 600 residents demonstrates 80% support for LRT.
Daryl Dela Cruz, campaign chair, said:

"Surrey has a population of over 500,000 people. A sample size of only 600 residents falls far, far short of demonstrating support for LRT."
In addition, SkyTrain for Surrey has demanded the full release of this poll. Citizens deserve to know what was the poll question, and how respondents were approached, and whether the respondents actually live near a proposed LRT line and would actually use it. It is unlikely that this poll indicates support for Light Rail technology, rather than general support for expanding transit, as respondents may not have been asked to choose between Light Rail and SkyTrain technologies.
Contrary to claims by LRT supporters, there is high opposition against LRT in Surrey. A November 2014 poll conducted by the popular website Vancity Buzz, which collected 1,659 votes, showed higher public support for SkyTrain than for an LRT system. Readers were questioned, "What kind of transit expansion does Surrey need?", and the results were that…
54.13% of respondents support an extension of grade-separated SkyTrain

Only 29.66% preferred a ground-level LRT
16.21% of respondents had different opinions.
---
About SkyTrain for Surrey
SkyTrain for Surrey is a local grassroots organization calling for a SkyTrain and Bus Rapid Transit (BRT) network instead of the currently-proposed on-street Light Rail system in Surrey.
Our campaign directors: Daryl Dela Cruz (Surrey, chair), Benedic Dasalla (Surrey), Jacky Au (Surrey), Spencer Whitney (Langley)
For further information
Daryl Dela Cruz, Campaign Chair, Phone: +1 604 329 3529, E-mail: [email protected]
---
Appendix: Poll results
The poll results were collected on Vancity Buzz's article: Surrey light rail project passes first hurdle to secure federal funding
The question is clearly worded and offers respondents a chance to compare all of the potential options (rather than focusing on one while excluding any others). All answers are also clearly worded.
1,659 responses were collected, demonstrating a high reach rate towards respondents.
The preceding article was neutral, and included both perspectives in favour of and against LRT.
(The results on the right were retrieved on December 27, 2015).
This isn't the only online media poll to have shown preference for SkyTrain South-of-the-Fraser.
24 Hours Newspaper attached a reader poll to a 2015 article titled "LRT 101: Surrey lays out its concept". In that poll…

53% of respondents preferred a SkyTrain system

Only 28% preferred Light Rail
19% of respondents preferred to drive their car.
In this case, the preceding article did not include an against-LRT perspective. Voters were free to choose as they wish with only the preceding pro-LRT perspective as their basis.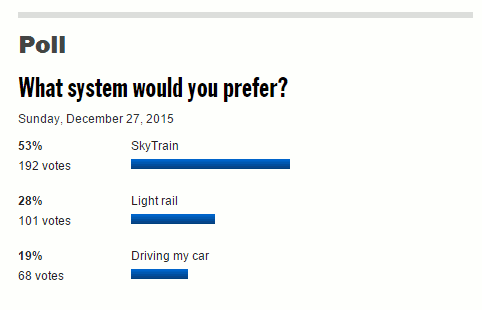 Surrey deserves better
Help us make SkyTrain and BRT a reality in Surrey
Latest news
By skytrainforsurreyadmin / February 12, 2016
By skytrainforsurreyadmin / February 10, 2016
By skytrainforsurreyadmin / January 18, 2016
By skytrainforsurreyadmin / January 7, 2016
By skytrainforsurreyadmin / December 29, 2015
By skytrainforsurreyadmin / December 28, 2015
City poll fails to demonstrate LRT support