IMMEDIATE RELEASE – Surrey, BC
An announcement today [LINK HERE] highlights that a contract has been signed with Bombardier to supply the vehicular rolling stock of the Evergreen Line.   The order was signed for $90.7 million, a $3.2 million per car deal in line with previous SkyTrain vehicle costs adjusted for inflation. This marks the launch order of the new Bombardier INNOVIA Metro 300.
The news announcement states that the new vehicles will be supplied by Bombardier. The only SkyTrain-compatible vehicles currently being offered by Bombardier are the new INNOVIA Metro 300 series vehicles.
A request for expression of interest document from February 2012 [CLICK HERE to learn more] highlighted that there will be centre cars in the new configurations. This means that the new vehicles will be 4-car articulated consists; the new cars are likely to service the Expo Line instead as the Evergreen Line's service configuration statement mentioned that service will be provided by two-car trains, and first or second gen ART 200 vehicles will probably service the Evergreen Line.
UPDATE 4th December: A confirmation from the Evergreen Line project team indicates that the new vehicles will be operable on all portions of the Evergreen, Millennium and Expo Lines and will intermix with the existing fleet on all lines. Actual operating specifics will vary based on refinements to operating plans closer to launch time.
INNOVIA Metro [definition – LINK] is the new marketing name for Bombardier's Advanced Rapid Transit (ART) vehicles; the name was changed earlier this year with a restructuring of Bombardier's product lineup.  Bombardier is now marketing what many local proponents like to call "SkyTrain technology" a full-size metro product, alongside its MOVIA metro vehicles.
These SkyTrain vehicles showcase the kind of future system that could be had in Surrey if the Province follows through with our calls to over-rule the choice for LRT.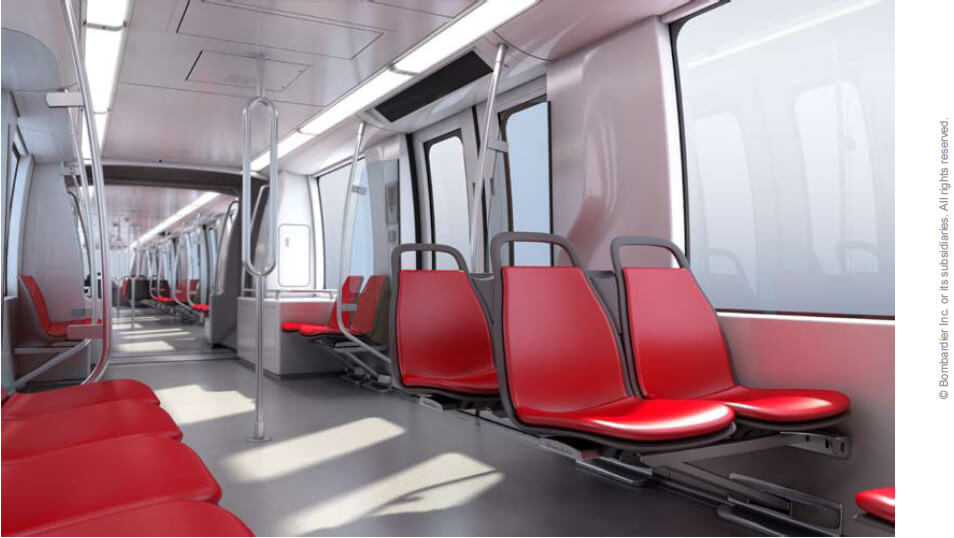 Next-generation SkyTrain vehicles showcase future for Surrey