From the SkyTrain for Surrey Analyst Team in Surrey, BC
We've been looking for an occasion to unveil this document from Bombardier: it's a proponent application to supply the rolling stock/technology for Hawaii's SkyTrain-like automated rapid transit system, still hosted on the Hawaii rapid transit website server – and the details hidden within have the potential to debunk more than a few myths. The recent attempt by Zweisystem of Rail for the Valley to discredit us [LINK] presented us with the perfect opportunity to make a reveal.
This is an excerpt from pages 79 and 80 of the document:
Bombardier Transportation
8 ) Can other manufacturers provide interoperable vehicles in a future procurement?  If so, please provide the names of up to four other manufacturers of compatible equipment.

ART is based on steel wheel rail technology at standard gauge and any number of manufacturers could potentially supply vehicles that may be interoperable.  Inter-operability, however, involves interfaces with other subsystems such as power supply/power pickup, train control and communications.   The ART-based AirTrain system at JFK Airport was designed to accommodate a future "one-seat ride" vehicle compatible with Long Island Rail Road.

Suppliers of steel wheel vehicles include: Siemens, Rotem, CAF, Ansaldo Breda, Alstom and others.

The recent 140 car upgrade for Kuala Lumpur [ART Kelana Jaya Line] was won by Bombardier in open competition with Kawasaki and Rotem.   In this case, both offered linear motor powered vehicles.

9 )Can multiple manufacturers provide compatible interfacing systems equipment in a future procurement?   If so, please provide the names of up to four other manufacturers of compatible train control/signaling, traction power distribution, propulsion and braking control equipment.

– Train control: moving block automatic train control systems regardless of supplier and proprietary and not compatible with each other
– Traction power and distribution: in general, suppliers can be identified that will supply similar equipment, with the similar functionality
– Vehicle propulsion: suppliers can be identified that will supply similar equipment, with the similar functionality
– Brake control equipment: suppliers can be identified that will supply similar equipment, with the similar functionality
Clearly, SkyTrain/ART/ALRT trains can be built by other companies and not solely by Bombardier. Kawasaki Heavy Industries (a large Japanese company, which supplied trains with LIMs for many Japanese LIM propulsion subway systems such as Tokyo's Toei Oedo line [CLICK HERE] as well as Rotem (a South Korean company, a division of Hyundai, which has built trains for the Canada Line project in Vancouver) are also competitors with Quebec-based Bombardier in building linear motor powered vehicles.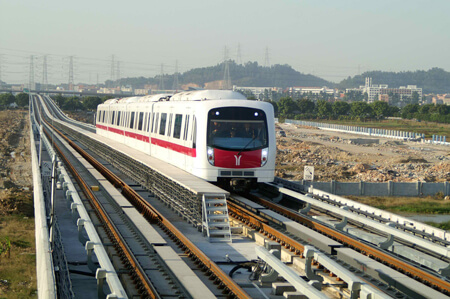 Linear motor propulsion is also not a necessity in terms of providing the propulsion option, and linear motor trains could operate in conjunction with standard electric trains using rotary propulsion on the same track – the problem with total inter-operability is that there are probably few or no other rotary propulsion equipped trains that also have the lower platform height of linear motor trains.
————————————————————————————————————
————————————————————————————————————
————————————————————————————————————
In the name of ensuring that citizens and stakeholders are receiving the most accurate information, we have decided to debunk the rest of the myths on the Rail for the Valley article [LINK] – here they are with incorrect points highlighted in red and the corrections below:
[SkyTrain is a proprietary light-metro system owned by by Bombardier Inc.]

and

[only SkyTrain vehicles can operate on the guideway]

. The cost of one Mk.3 vehicle, with a maximum capacity of about 125 persons per vehicle, works out to about $3.25 million a copy. A modular light rail vehicle or tram, with a capacity of about 250 persons, costs an average of $4 million a car.

[It would be cheaper to operate couples pairs of trams, costing around $8 million, but having the same capacity of 500 persons of a four car SkyTrain train-set, costing $13 million.]

TransLink would

[need only fourteen LRV's or trams costing about $56 million to do the same work as twenty eight SkyTrain metro cars, costing $90.7 million.]

Of course no other company made a bid on supplying cars,

[ART is a proprietary transit system and only Bombardier built cars can operate on the Expo and Millennium Lines!]
Disproved on page 75 of the Honolulu document:


SkyTrain is a trademark of BC Transit.

We have mentioned time and time again that SkyTrain is not the name for anything released by Bombardier.

Disproved above.
Disproved on page 71 of the Honolulu document – which finds that SkyTrain was significantly cheaper to both operate and maintain than other heavy-rail and light rail operations in America:

SkyTrain vs others: vehicle maintenance costs/vehicle revenue mile

TransLink would also require millions of dollars in additional annual operations costs, offsetting the savings and therefore disproving that comment.
Again, disproved above.
[The SkyTrain cars are not articulated] and operate as a permanently married quadruple set. The cars are gangwayed, permitting communication throughout the train-set. [The Mk.3 'quadruple set' has now made the Bombardier's ART system a heavy-rail metro as the light metro market has all but collapsed.] Articulated cars are rail vehicles which consist of a number of smaller, lighter cars which are semi-permanently attached to each other and which share common bogie or truck.
The definition for an articulated rail set (which is affixed to the end of the paragraph) appears to have been taken directly from the Wikipedia article [LINK] on articulated rail cars. This article is marked for its lack of citations and sources, which has remained unchanged since a December of 3 years ago. It is likely that there is no merit or accuracy in this definition – because under this definition, it would also be incorrect to consider an articulated bus to be articulated at all.
So, in terms of the matter of describing what is articulated, we would prefer to go by the Merriam-Webster dictionary definition, which the 4-car gangwayed Mk. III SkyTrain car will fit:

Definition of ARTICULATED

of a vehicle: having a hinge or pivot connection especially to allow negotiation of sharp turns <articulated lorry> <articulated bus>

It is false to think that the Light metro market is collapsing as several are being planned in places around the world such as Asia and at least a few North American cities such as Honolulu. The reason that Bombardier is able to market its ART system (now INNOVIA METRO) as a heavy-rail metro is because it has historically always been capable of doing the work of a heavy rail metro. The segment of SkyTrain between Columbia Station and Waterfront Station has a higher theoretical capacity than the most capacious segment of the Toronto subway:


Vancouver SkyTrain (Expo/Millennium Lines between Waterfront & Columbia Stations) – maximum theoretical capacity with 5-car trains carrying 1187 each [1] at frequencies of 75 seconds [2]: 56976 pphpd
Toronto Subway – maximum theoretical capacity with 7-car "Rocket" trains carrying approximately 1645 each [3][5] at frequencies of 105 seconds [4]: 56400 pphpd

Based on:

Capacity of 4-car Kuala Lumpur Kelana Jaya Line train, with side-facing seating: [LINK]
Expo Line Upgrade Strategy – maximum defined frequency [PDF] – [LINK]
Current Toronto Rocket trains have 6-car length and carry 1416 passengers [LINK] at crush load 6 people per square metre frequencies
Yonge Subway Extension – Recommended Concept/Project Issues – [LINK]
7-car rocket trains have been studied and are possible – see [see LINK above]
[To absorb the development costs for SkyTrain compatible cars, companies like Alstom and Siemens need to build a minimum of 100 cars.]

As the MOT and Bombardier keep ordering small lots of MK.3 cars, all other companies are effectively shut out of the bidding process.
This information appears to have been conjured as a response to the quoted media release on the article that mentions that the reason that other companies declined to respond to the request for expression of interest was because the order was for less than 100 cars. The release is allegedly ours (as the article title indicates that this was a direct response to us), but it does not match anything in the information we released on our website (and the information we quoted) regarding the new SkyTrain vehicle order [Bombardier signs INNOVIA Metro launch order – new vehicles to debut on Vancouver SkyTrain]
We looked further into this, and found by a quick Google search of the internet using quotation marks to define that precise quote [LINK HERE] that there is no release on the internet that contains these words – and that the only website that has published them and is showing up on Google's regularly updated results is Rail for the Valley. This means that – for whatever reason or motive that would seem unusual and we cannot identify – this information was completely falsified.
There is no proof in any media release on the internet that indicates why there was no interest from other companies, or if that there was no interest from other companies is true at all. There is no indication in any news release or internet article that Bombardier was the only responder to the request for expressions of interest, except for on this article on the Rail for the Valley website.
Anti-SkyTrain is nothing more than a misleading mentality – and if there's anyone who doesn't have a clue about SkyTrain, it's Rail for the Valley's Zweisystem himself – the most ill-informed SkyTrain oppositionist in Metro Vancouver.

Putting an end to the myth that SkyTrain is proprietary