IMMEDIATE RELEASE – October 4  2017
SkyTrain for Surrey has learned that the low average travel speed of the Phase 1 Surrey-Newton-Guildford LRT line will make it one of the slowest rail transit systems in Canada.

According to the latest numbers released by the City of Surrey and TransLink, the Surrey-Newton-Guildford LRT line will offer average commute speed of just 21.4 kilometers per hour after accounting for average wait times, which means that compared to existing and proposed rail transit systems in Canada, the first phase LRT line in Surrey will be significantly slower. The only projects that are being planned to be slower will be the Finch West and Sheppard East LRTs in Toronto.
In comparison, almost all other Canadian LRT projects are designed to offer faster "rapid transit" speeds:
Average speeds of proposed Light Rail lines in Canada
Calgary Green Line Stage 1 – 30.8 km/h
Ottawa Confederation Line – 29.4 km/h
Toronto Eglinton Crosstown LRT – 28.5 km/h
Edmonton Valley Line Southeast – 24.2 km/h
Hamilton B-Line LRT – 24.0 km/h
Waterloo Region ION LRT – 22.8 km/h
Surrey-Newton-Guildford LRT – 21.4 km/h
See more: LRT and rapid transit travel times in Canada
---
Why Surrey's LRT system is slower than other LRT systems
LRT: Slower running speeds
LRT running on the street is limited to the same speed as surrounding vehicle traffic.
With a running right-of-way located entirely on city streets, crossing numerous major intersections, Light Rail Trains on Surrey's LRT system will be limited to roadway speed limits of 50-60 km/h.
By comparison, most of the other LRT systems above offer considerable segments that are off of the street and in their own rights-of-way, where trains can travel at significantly faster speeds of 80-90 km/h, unimpeded by any obstructions or surrounding traffic. Many of these segments will be located on an elevated guideway or a tunnel, similar to SkyTrain, offering full grade-separation from the street level.
In fact, Canada's three largest Light Rail projects – Toronto's Eglinton Crosstown, Ottawa's Confederation Line and Calgary's Green Line – all feature long underground segments that are fully grade-separated from pedestrian and vehicle traffic. Fully grade-separated construction has been a common trend among modern LRT systems, including Canadian and U.S. cities such as Calgary and Seattle.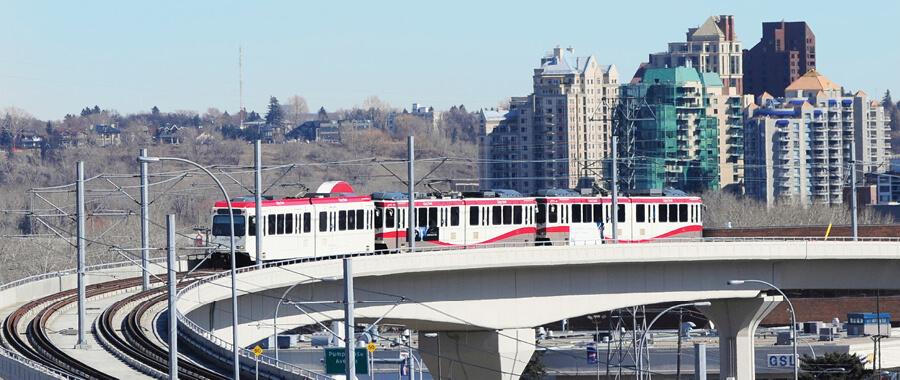 ---
Will be slower than most existing bus routes
In addition, with TransLink's posting of average speeds in its most recent Transit Service performance review, we took the opportunity to rank the Surrey-Newton-Guildford Line against other daytime transit routes in our transit system. Against these routes, the Surrey-Newton-Guildford Line ranks 116 out of 192 routes, making it slower than the majority of the region's existing bus routes.
When compared against busy routes on the frequent transit network, the Surrey-Newton-Guildford Line is outperformed by several other routes such as the 100, 160, 250, 320, 321, and 95 B-Line.

In addition, the measurements suggest that the average speed of the SNG line will be exactly the same as the existing 96 B-Line between Guildford and Newton, rather than offering an improvement.
See more: Average speeds of TransLink bus and rail routes
---
Our suggestion: Cancel the Surrey-Newton-Guildford LRT, expedite SkyTrain extension to Langley
SkyTrain for Surrey has called for the cancellation of the Surrey-Newton-Guildford LRT project, in favour of the construction of a Bus Rapid Transit system for a fraction of the cost on King George Blvd. and 104th Avenue., with significantly fewer negative community impacts.
Funds freed up by cancelling the Phase 1 LRT project can be used to accelerate a rapid transit line on Fraser Highway, which should be built as an extension of the SkyTrain Expo Line.
We can have many LRT features for a fraction of the cost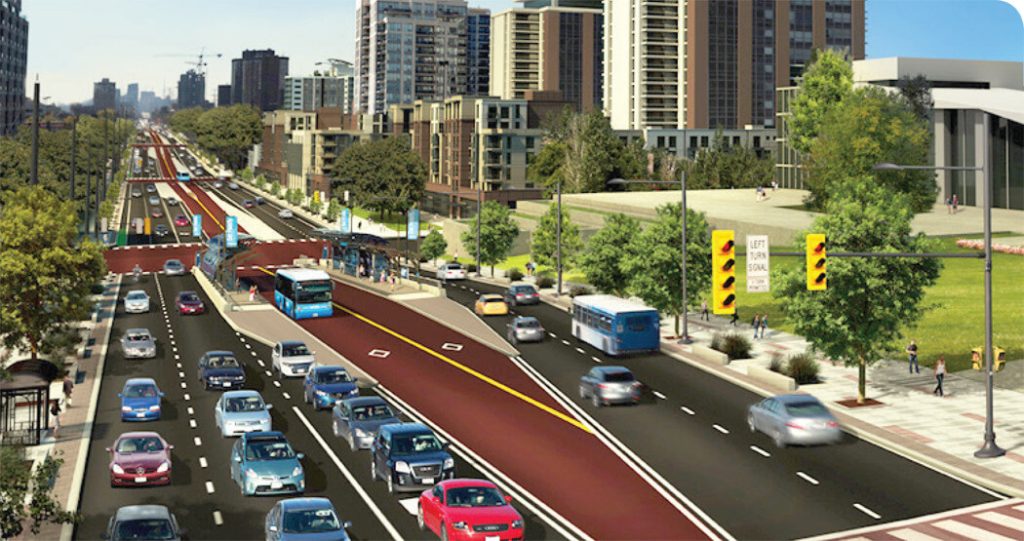 SkyTrain for Surrey has suggested the construction of a Bus Rapid Transit system on 104th Avenue and King George Blvd, on which it is possible to incorporate many of the same features offered by LRT systems such as dedicated transit lanes, traffic signal priority, real-time "next bus" displays, off-board fare payment, and more.
In 2012, TransLink's Surrey Rapid Transit Study suggested that a Surrey-Newton-Guildford LRT would produce a negative return on investment, offer little to no travel time savings compared to existing transit, and increase congestion throughout the community. As a street-level line running through 27 major intersections, the Surrey-Newton-Guildford Line will be prone to frequent track closures caused by accidents, vehicle-train collisions, and other incidents, making transit less reliable than it is today.
Street-level Light Rail in Surrey will not reduce congestion, will not increase transit ridership, and will not offer legible transit improvements despite costing hundreds of millions of dollars. It will be the most expensive mistake in the region's history.
We do not want a transit system that is an expensive mistake.
---



SkyTrain for Surrey is a local grassroots organization calling for a SkyTrain and Bus Rapid Transit (BRT) network instead of the currently-proposed on-street Light Rail system in Surrey. Our campaign has called on decision-makers to build the Langley Extension of the SkyTrain Expo Line, in conjunction with an extension of the 96 B-Line to Coquitlam Centre and White Rock as a Bus Rapid Transit system.
For further information, contact:
Daryl Dela Cruz, Founding Director
Phone: +1 604 329 3529, info@skytrainforsurrey.org
Surrey LRT line will be among slowest in Canada