Our Vision: Bus Rapid Transit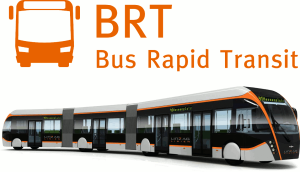 Bus Rapid Transit or BRT is a world-class transit system that can offer the comforts and features of a street-level Light Rail system for a fraction of the price.
BRT buses can run in their own traffic lane, just like Light Rail, and passengers can board from all doors. BRT can use high-capacity vehicles, such as bi-articulated buses, to increase capacity over regular buses. Vehicles can be electrified by trolley-wire or battery, and have zero-emissions like electric LRT trains. Vehicles can also get around accidents and track blockages that would paralyze an LRT.
Bus Rapid Transit began its rise to popularity in cities outside North America, but has become a popular choice for cities in Canada. Winnipeg, York Region, London, Hamilton, Ottawa and Brampton are some of the many Canadian cities that have chosen BRT instead of Light Rail for a major transit project.
Our Vision: Bus Rapid Transit instead of LRT for King George Blvd & 104 Ave
BRT can connect the whole region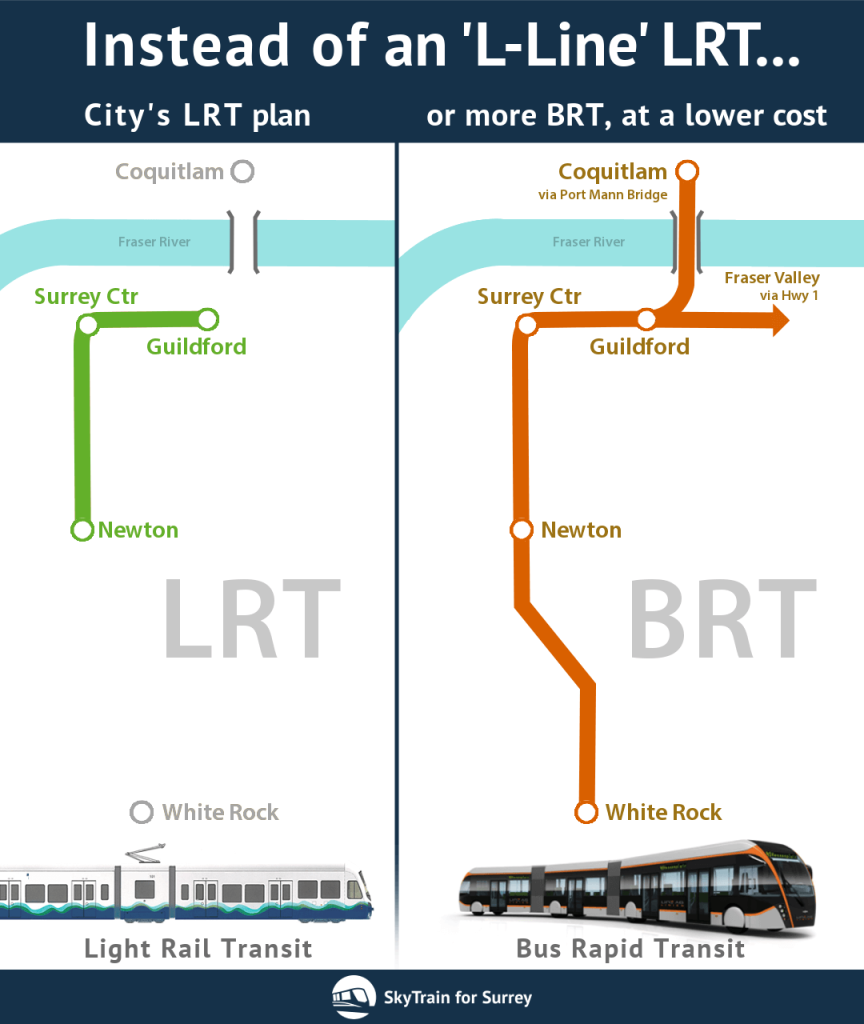 Bus Rapid Transit can be run in dedicated bus lanes that skip regular traffic like Light Rail; however, they can also run on existing roadways, and even interline with existing bus routes. That means BRT enables a network of possibilities.
BRT routes through Surrey could extend beyond King George Blvd & 104 Ave, potentially enabling one-seat rides from White Rock to as far as Coquitlam Centre. Additional lines could connect Downtown Surrey to the Fraser Valley via Hwy 1, or to Scottsdale & Kwantlen University via 72nd Avenue, with zero transfers.
Best of all, an extensive network of BRT can be set-up faster than Light Rail. LRT systems require all tracks and facilities to be built before service can begin. BRT buses can start running immediately, while facilities such as more dedicated lanes can be added gradually, with less impacts to traffic and surrounding business.
If we continue with LRT, its higher costs would hold back needed extensions of SkyTrain in our region, such as an Expo Line extension on Fraser Hwy to Langley.
---
Where can a BRT system go...
Surrey's current proposal on King George Blvd & 104 Ave is for a street-level LRT that will go from Guildford to Newton via Surrey City Centre.
If a BRT system is built instead...
It could be further extended from Newton to White Rock Exchange via King George Blvd & 152nd St... from Guildford to Coquitlam Central Station via the Port Mann Bridge... and from Surrey to the Fraser Valley via Highway 1.
What could a BRT system look like...