Sent to: Better Transit and Transportation Coalition
Co-Chairs: Peter Robinson, Gavin McGarrigle, Bahareh Jokar, Iain Black
Requested forward to: all B.T.T.C. partners
Subject: Light Rail promotion destroying Surrey yes vote
To all coalition supporters, organizers, chairs
The Better Surrey Rapid Transit is proud to support a "YES" vote for better transit in Metro Vancouver. We are updating our website to integrate "YES" messages and informing our supporters that a "YES" vote is the first step to moving a better transit future in Surrey.
As stakeholders in the transit outcome, we believe it is imperative that we communicate a major issue with the "YES" campaign in Surrey. At the moment, Surrey and the South-of-Fraser should be on the minds of all "YES" supporters: it has the lowest and worst "YES" support percentage of any area in the region, in a region that's already seemingly favouring the "NO" vote altogether.
This should not be taken lightly and there are serious questions that need to be raised about the "YES" campaign in the South of Fraser. I have personally seen the strength of the desire for transit improvements in the South of Fraser for the past 3 years. Transit became a top, turning-point issue in the last municipal elections. Surrey is a city where residents have been deeply concerned about transit improvements for years upon years. This is not how it should have turned out.
A recent support stated that one of the top reasons the "NO" vote share in Surrey is growing is the odd, ambiguous mention by our Mayor that the big-ticket Surrey item in the Mayors' transit plan – Light Rail Transit (LRT) – can proceed with or without the Congestion Improvement tax.
I believe the entire mention and focus on Light Rail altogether has had major implications on the YES transit vote. I have heard from several people – existing supporters, and even others who haven't heard about the Better Surrey Rapid Transit campaign – who are declaring they're voting no, because of the choice for Light Rail.
There have been several letters-to-the-editor from citizens dissatisfied with Light Rail in local newspapers (at least 6 issues since 2015 begun) – citing major issues left out of the consultation process by the City, and just about all of them encouraging "NO" votes in the plebiscite.
I have even seen this image circulating on Twitter: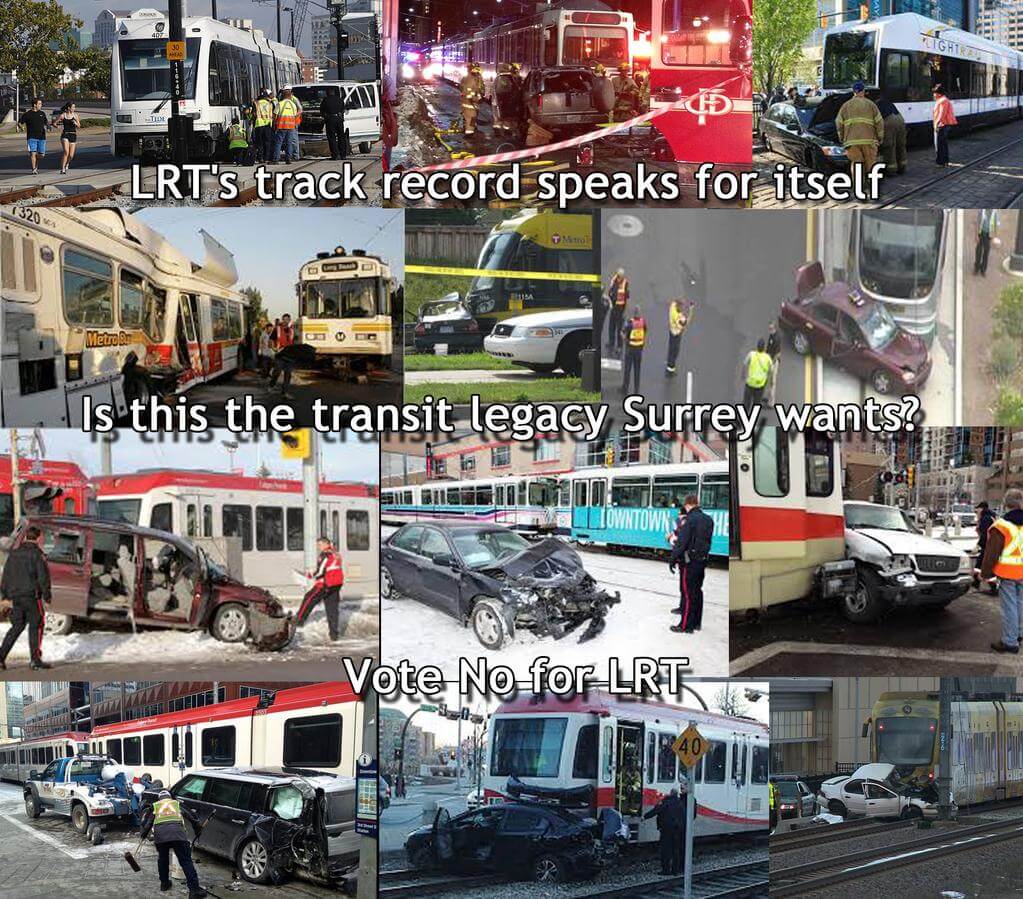 While we appreciate that there's an active knowledge on the serious flaws with on-street Light Rail, our campaign been operating under the principle that the technology debate should not be part of the transit funding debate altogether. As of the time and date I sent this letter, Better Surrey Rapid Transit has not published any statements regarding the upcoming plebiscite.
The fact is, many Surrey voters aren't prepared to permanently approve a specific technology. They remember that they've been lied to by the City of Surrey on LRT and its benefits, as we've been pointing out on our website and regular news releases for two years. They realize that the downsides don't beat the positives – that Light Rail will solve some of our problems, but create more new ones to deal with instead. They realize there could be a better plan.
That's probably a part of the reason why the provincial minister, who is also a supporter of the "YES" vote, changed "Light Rail Transit in Surrey" to "Rapid Transit in Surrey" on the ballot.
We saw this as good news – it means that Surrey's funding is not tied to a "Light Rail Project" (leaving room for that aforementioned "better plan", posted on our website) and the rapid transit debate is open as it needs to be. It would avoid the conclusions from now-skeptical voters that we would be stuck with LRT, and I was hoping this change would extend to "YES" campaigners" – I was wrong. Light Rail has been a central part of every "YES" campaign in Surrey and, as far as I've been aware, is even on the city's electronic billboard advertisements encouraging "YES" votes.
This needs to stop. Now.
The province has taken a lead by removing the lock-in to "Light Rail Transit in Surrey" from the referendum ballot; "Yes" campaign supporters need to be doing the same. Say "Rapid Transit", not "Light Rail". Surrey residents do realize that rapid transit of any technology (including enhanced Bus Rapid Transit or BRT) would be a huge improvement from what we have now.
We'll be doing our part, advising those who want to say "NO" because of Light Rail that the province has kept the debate on transit technology separate, and open. I am asking the "YES" campaign to do their part. It would be a major disservice to everyone if we continue to center our promotion on a transit technology not everyone agrees with, and allow that to destroy the vote.
I hope I have gotten your attention and established a need to take action.
Sincerely,
Daryl Dela Cruz
Campaign Manager – Better Surrey Rapid Transit
Campaign website: skytrainforsurrey.org
[scribd id=258324702 key=key-qfUIZmAureevvG3FgGmE mode=scroll]