Surrey's street-level light rail plan has few tangible benefits for its cost.
It was never considered the best alternative
In 2012, TransLink and the Ministry of Transportation released the Surrey Rapid Transit Study analysis, which looked at 14 different alternatives for building rapid transit South-of-the-Fraser. These alternatives had combinations of building with 3 different rapid transit technologies (Bus Rapid Transit, Light Rail, and extending SkyTrain) on the three busiest transit corridors in Surrey and Langley.
The best alternative that was found by the study was "RRT 1A", which proposed extending the SkyTrain Expo Line on Fraser Highway to Langley, and building a Bus Rapid Transit (BRT) system on 104 Ave and King George Blvd. RRT1A served all three corridors, met the ridership demand projections, offered a positive business case and had the most transportation benefits of any alternative.
LRT was never considered the best alternative, and the proposed LRT is not the system that will serve Surrey and Langley best in the future.
It will be an expensive mistake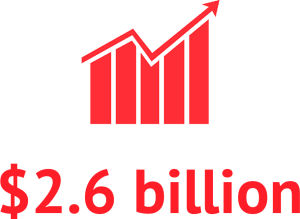 Despite costing nearly as much per-km as both the SkyTrain Evergreen Extension and Canada Line, the proposed LRT system will have no grade-separation and it will run through the middle of dozens of intersections. This street-level LRT will have no travel time advantages over dedicated bus lanes, and will be prone to major delays if tracks become blocked. Even the business case analysis for LRT expects a net loss to society rather than a net benefit.
Total costs to build the LRT system have risen, now topping $2.6 billion - and there has been little discussion on how the region will fund millions in LRT operating deficits, every single year.
If Surrey proceeds with a street-level Light Rail system, it will be the most expensive mistake in our region's history.
Too many major issues
Light Rail advocates in the City of Surrey have overlooked the major issues of building light rail at street-level. Although we have presented on these issues several times to Surrey's staff and City Council, the City has continued to insist on building street-level light rail.
We have identified

15 major shortfalls with the proposed Surrey LRT

.
(Click or tap to expand the boxes below)
Slower speeds
LRT running on the street is

limited to the same speed as surrounding vehicle traffic.
Light Rail trains won't be anywhere near as fast as SkyTrains.
Limited to 50 or 60km/h on most city roadways
Slower than SkyTrain, which has running speeds of 80-90 km/h in a fully segregated guideway.
No speed improvements against rapid buses in their own lanes
Could deter ridership as existing SkyTrain riders have been shown to prefer higher trip speed.
Few travel time savings
You won't save 

enough time

for it to

actually matter.
With lower running speeds and added transfers, an LRT will save you so little time that it will barely make a difference.
LRT would offer only 1 minute savings vs. the current

96 B-Line

rapid bus
Some corridors (such as 104 Ave) will see travel time increase against current express buses
Riders will need to make

more transfers


(i.e. from SkyTrain to LRT, and from LRT in Newton to connecting buses to White Rock)
* Detailed travel time estimates were provided on page 45 of the Surrey Rapid Transit Study – accessible [HERE]
High operating costs
The LRT network will cost

40% as much to operate 

as the entire South of Fraser transit network today.
An LRT in Surrey will have higher operating costs than extending SkyTrain due to the extensive requirement of LRT drivers, as well as the need for all-new facilities, staff and training.
Fare revenues will fall far short of recovering long-term costs to operate the system.
New funding sources will need to be found to pay for this operating deficit
Estimated opening-day deficits of $22 million annually – over 3x as high as SkyTrain
With no plan to pay for these costs, operating LRT could require service reductions on existing bus routes.
Lower frequencies • longer waits
Light Rail riders

will wait longer

before a train arrives.
On-street LRTs are driver-operated, and can't operate as frequently as our driverless SkyTrain.
Drivers come with a labour cost, meaning lower frequencies during less busy hours.
Due to higher operating costs, off-peak frequencies could be lower than the current 96 B-Line.
A driverless system will be able to run frequently even very late at night, early in the morning, whenever you want to travel.  Light rail, bound by labor costs, will always be pressured to cut frequency outside the peak period…

From Human Transit: "Frequency and Freedom on Driverless Rapid Transit"
* Human Transit is the professional blog of consulting transit planner Jarrett Walker.
Increase in greenhouse-gas emissions
LRT

will not recoup

its construction and operations emissions.
In fact, a net greenhouse-gas (GHG) increase of 38,000 tonnes was projected in the Surrey Rapid Transit Study.
In addition to this net increase…
Congestion increases on 104th Ave and other corridors will increase GHG emissions
Accidents caused by the LRT will increase in GHG emissions in various ways
Lower ridership will offset GHG reduction as potential riders not finding usefulness in the LRT system continue to choose their cars.


66%

of Surrey's GHG emissions come from transportation emissions.
A SkyTrain + BRT alternative will recoup emissions if the BRT uses hybrid-electric, CNG, or trolley electrified buses.*
*Note: As of 2016, the 96 B-Line is now served entirely by a fleet of hybrid diesel-electric buses. This meets the criteria for a net GHG reduction.
Construction impacts • Street closures
LRT construction and street-scaping works 

will require the street to be closed from edge-to-edge.
While Bus Rapid Transit systems could be constructed more gradually and SkyTrain extensions take up less space, Surrey's construction of an LRT system will…
Require significant reconstruction of the layout of the street,
Require underground digging to remove sewers and utilities,
Double or triple transit times during the construction period,
Create few travel time savings after construction is complete.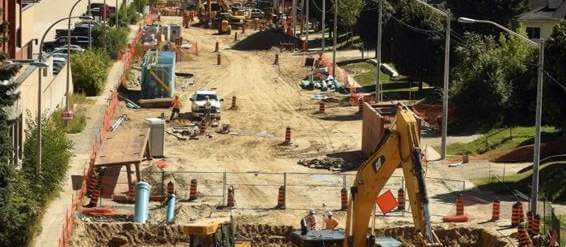 Pictured: what LRT construction looks like in Kitchener-Waterloo, Ontario.
Traffic Mayhem on 104 Avenue
LRT will

cut two lanes from 104th Ave

and cause traffic mayhem in the community.
The City says there's no space to retain 4 traffic lanes on 104th Avenue, a busy and congested arterial connecting City Centre to the Trans-Canada Highway.
Reduction in travel lanes

despite no transit time improvements

.
Drivers will divert away from a congested avenue, increasing traffic on parallel/local streets
Traffic congestion throughout the community
Change in road layout/capacity may negatively affect goods movement into City Centre.
And that's not all. This will create a whole slew of additional issues:
See more
New truck corridors to city centre will need to be instated on quiet, neighbourhood streets.
(This could include: All of 100 Ave; 156 St; 154 St from 100th to 108 Aves; and 108 Ave (currently a restricted corridor)
Parallel roads like 100, 105 and 108 Avenues will require reconstruction and widening at significant cost.
The additional cost of area road modifications hasn't been accounted for in LRT cost estimates.
Parallel, local-stop bus routes using general-purpose lanes (the 320 and 501) will face reliability issues and significant travel time increases.
Prone to accidents • Safety issues
Light Rail systems

kill more people than any other transportation mode except for motorcycles.
Pictured: Average fatality rates per 100 million miles, 2000–20111
At-grade Light Rail systems need time to stop and frequently hit pedestrians and vehicles.
On-street trains come with a human cost that is ignored by LRT advocates and urban designers.
Light Rail creates an average of

3 traffic accidents per crossing per year

2
Vehicle-train collisions can severely damage trains, costing millions for repairs/write-offs.
There are already hundreds of accidents each year on our LRT corridors.
Prone to service disruptions • Reliability issues
Accidents can

block LRT tracks

and

close LRT lines for hours.
Direct consequence of building LRT at-grade through major intersections.
LRT will pass through 2 intersections among the top 10 in Metro Vancouver crash-rates.
(these intersections are: King George Blvd & 88th Ave, and King George Blvd & 72nd Ave)
Can't detour around accident areas like regular buses or Bus Rapid Transit (BRT) systems.
We estimate: an accident-related LRT service disruption could occur

on average of once every 2 days!

Takes up more space • Property acquisition
The space required by an at-grade LRT

will require hundreds of property takes.
An estimated 214 property takes will be required on Fraser Highway alone (including at least 20 full takes)
LRT's at-grade footprint is more than twice as much as a SkyTrain guideway
Widened roadways will be more difficult to cross from end to end
SkyTrain's flexibility can allow for less disruption of existing properties.
This example is on the Evergreen Line.
Wreaks havoc on Green Timbers Urban Forest trees
Building Light Rail through Green Timbers Urban Forest means

hundreds of trees will have to give way.
The City is planning a widened, 40m Fraser Highway to accommodate 4 traffic lanes, greenway, and 2 more lanes for LRT. This is…
Significantly wider than the Green Timbers Urban Advisory Committee's 2008 endorsement for a 27m roadway
Significantly wider than a SkyTrain extension (which would fit with 4 lanes within 27m – see below)
Currently proposed LRT right-of-way (R.O.W.) through Green Timbers:

The original Surrey Rapid Transit Study assumed a ~27m R.O.W. for SkyTrain on Fraser: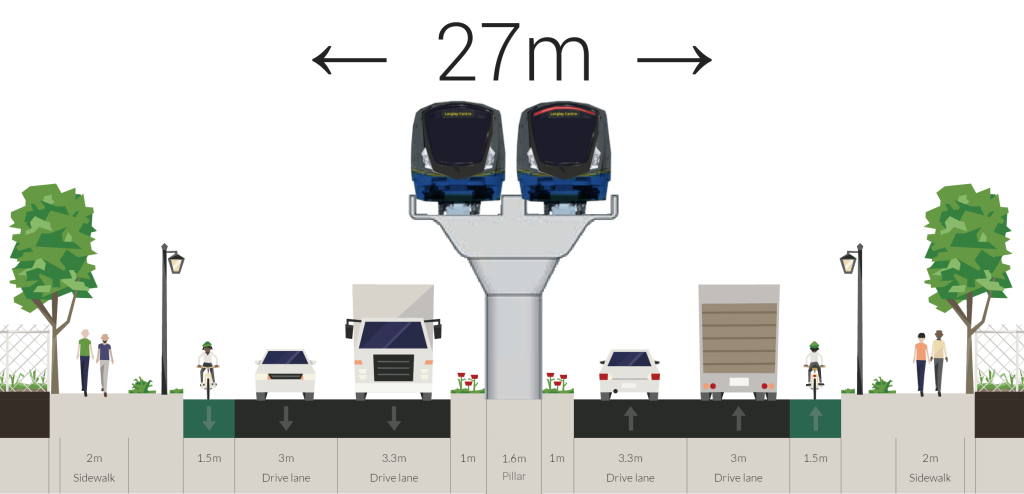 With more adjustments (i.e. move the multi-use path under the guideway), the R.O.W. can be reduced to 24m: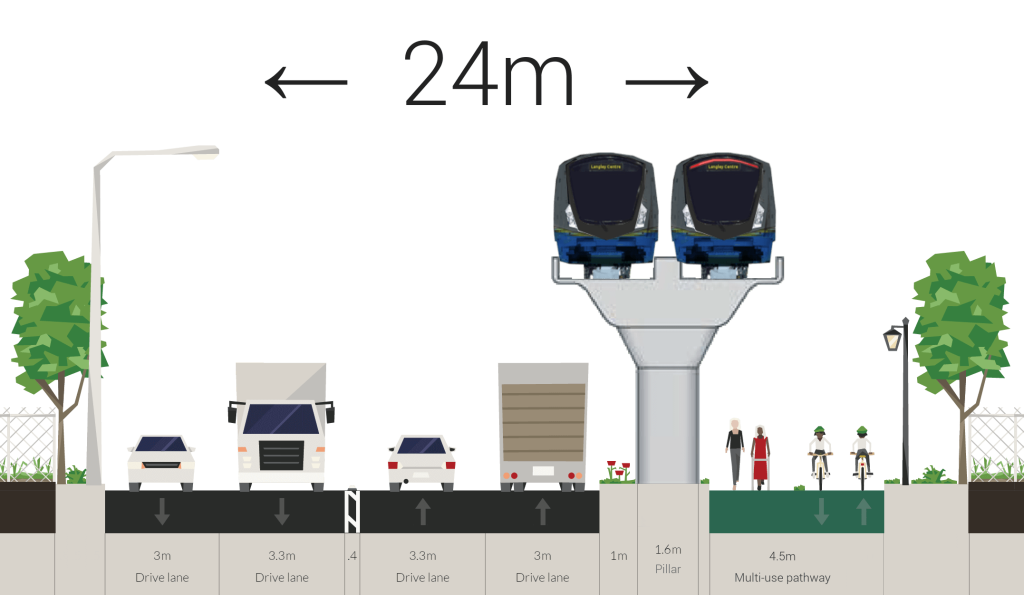 SkyTrain uses space above the roadway, meaning less trees would need to be cut down.
More transfers • fewer options
Riders will need to make

more transfers

with a Light Rail system.
Riders coming from the Expo Line SkyTrain will need to transfer to continue to Langley
LRT riders on the "L Line" will need to make additional transfers to buses to continue to White Rock or Coquitlam
End of direct, express service on 104 Ave on routes 337, 509, 590 (requiring a transfer to a slower, all-stop LRT)
Additional transfer requirements have not been communicated effectively with stakeholders.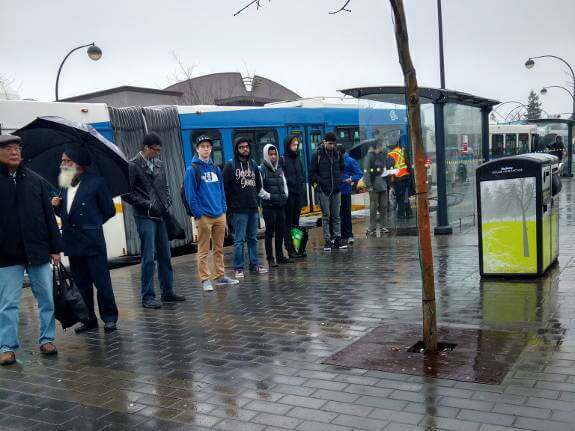 Building an LRT means you will still line up to transfer to the #319 at Newton Exchange.
A BRT system would create the opportunity to

remove that transfer

with a direct routing onto 72nd Avenue.
Negative business case • Few quantifiable benefits
It will take

decades

to truly offset the costs of an LRT.
With lower transportation benefits and less ridership, an LRT won't be able to create an offset to its cost.
Surrey Rapid Transit Study anticipated a negative benefit-cost ratio of just 0.69:1
Net present value was estimated at negative (-) $510 million dollars.
Benefits will not exceed costs within 30 years of operation.
Cost per added transit passenger is twice as much as SkyTrain extension.
Poor business case harms potential for senior-level government funding.
* Detailed business case estimates were provided on page 369 of the Surrey Rapid Transit Study – accessible [HERE].
Doesn't address growth in automobile use
Surrey has the

highest automobile use growth rate

in the lower mainland.
With half of residents not within a 15 minute bus of rapid transit corridors, travel time savings are extremely important. Even with anticipated transportation demand management (TDM), Light Rail is expected to

do little to increase transit mode-share

.
Only 5-8% of South-of-Fraser residents will use the LRT regularly
Most residents will continue to drive as LRT is not a competitive alternative
Fails 50% regional goal for sustainable mode-share (transit/walking/cycling)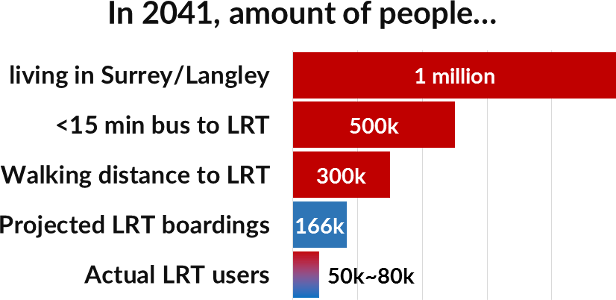 Data from the Surrey Rapid Transit Study – accessible [HERE].
Doesn't service White Rock Centre and South Surrey
Rapid transit from Newton to White Rock is

no longer a city priority.
Rapid Transit on King George Blvd. south of Newton is not on the City's list of priority infrastructure projects.
Previously shown Bus Rapid Transit link is no longer on the City's latest LRT network map
Unclear whether it will ever move forward, given high operating costs of LRT
Only Light Rail portion of full rapid transit plan is promoted by City on website
This is our vision instead of Light Rail
Instead of Light Rail, our vision is to see a rapid transit network in Surrey created by extending SkyTrain beyond King George Station, and building a Bus Rapid Transit system on instead of Light Rail.
Expo Line: Langley Extension on Fraser Highway
Bus Rapid Transit on King George Blvd & 104 Ave
Our vision is based on the "RRT 1A" alternative that was looked at in the 2012 Surrey Rapid Transit Study by TransLink and the provincial ministry. This SkyTrain + BRT alternative offered the best business case and the most transportation benefits, and the study found it to be a superior alternative compared to street-level Light Rail.
---
Learn more about our vision for Surrey and the South-of-Fraser by visiting the below pages: Our vision: SkyTrain to Langley

Our vision: Bus Rapid Transit