While certain groups in the community are certainly entitled to believe that the "excitement is building" for the Surrey-Newton-Guildford LRT project, we here at SkyTrain for Surrey have observed that opposition to this Light Rail project is in fact rapidly growing. Over 3,500 people have signed our petition calling on TransLink to cancel this LRT in favour of a SkyTrain extension + BRT, and polls in the media consistently show that there is strong support for SkyTrain among news readers and the online community.
Even the Mayor of the City of Langley has stated that he would prefer a SkyTrain extension over an LRT.
Despite this growing opposition, TransLink and the City have been content to start LRT-related early works projects – squandering tens of millions of your taxpayer dollars – even though the LRT project team has not provided a final cost estimate or a business case.
Our campaign would like to share eight things you should know about the proposed Surrey LRT project:
1 – It will be one of the slowest LRT systems in Canada

With a running right-of-way located entirely on city streets, crossing numerous major intersections, Light Rail Trains on Surrey's LRT system will be limited to roadway speed limits of 50-60 km/h.
We ran the numbers and found that with the travel time estimates that were posted by TransLink, Surrey's LRT system will run at an average speed just 21.4 kilometers per hour – making it one of the slowest LRT systems in the country. This LRT will in fact be slower than many of the region's existing bus routes, including existing B-Line routes and many of the new B-Line bus routes proposed.
If the City of Surrey and TransLink get their way, you will be riding the snail train to work.
2 – It will not carry that many people

The ultimate design capacity of this LRT system is just 4,080 passengers per hour per direction (pphpd) – just 27% of the ultimate design capacity of the SkyTrain Canada Line – and that's only after extra money is spent in the future to lengthen station platforms from 40 to 60 metres. The initial system will offer a capacity of just 2,040 pphpd – which is actually less capacity than some of our existing B-Line routes.
As well, original ridership predictions for rapid transit between Surrey & Langley suggested that an LRT would attract significantly less riders than a seamless extension of SkyTrain from King George Station.
No matter which way you look at it, Surrey's LRT will not be benefiting that many people.
3 – It will not decrease your commute times

TransLink's own travel time estimates predict that you will save almost no time riding this LRT over your transit options today. Riders save only 2 minutes on end-to-end commutes, and only 1 minute on commutes to and from downtown Surrey. With all-door boarding coming to the 96 B-Line next year, there will be few differences between the existing B-Line bus service and a street-level LRT.
TransLink's excuse for LRT is that existing bus services on city roads will supposedly become unreliable, taking up to twice as long in the future. However, the dedicated lane infrastructure that would serve an LRT can also be built for B-Line buses. We did this in our region 15 years ago: the original 98 B-Line connecting Vancouver and Richmond made use of an exclusive bus-way in the median of Richmond's No. 3 Road.
4 – It offers no practical advantages over buses in dedicated lanes
Buses running in dedicated lanes can offer all of the same features and comforts as an LRT system, and they can do more: routes can easily extend beyond the dedicated busways, and the construction can be phased – mitigating disruption to traffic and the community. Many Canadian cities have chosen this system: cities like York Region, Calgary, Winnipeg and London have introduced exclusive bus-ways.
Bus technology is also rapidly developing – many cities around the world have introduced bi-articulated mega-buses that carry in excess of 200 to 250 passengers per vehicle – similar to a light rail vehicle. Here in Vancouver, testing has been ongoing into battery-electric powered buses, which will eventually enable all of the buses in our region's fleet to run on electricity.
5 – It will be prone to traffic accidents and service disruptions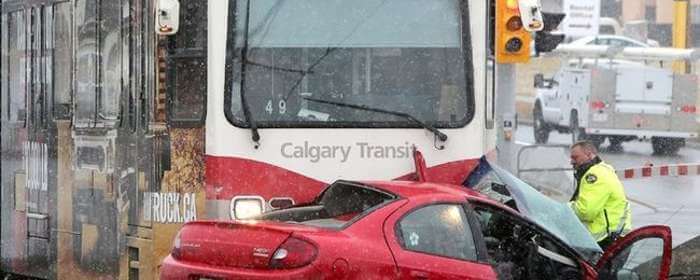 Because Surrey's light rail is situated entirely on city streets, much of its reliability depends on both pedestrians and drivers not making errors in judgment ahead of an approaching train. Delays and service disruptions are often a result of train collisions with pedestrians and vehicles – when car drivers disobey a traffic signal, fail to yield right of way, or make a left turn in the path of an incoming train.
In addition, while buses can more easily change routes and detour around affected areas, light rail trains can not – they are stuck if there is something blocking the tracks. The disruptions to service can last for several hours and be felt across much of the light rail network.
6 – It will congest our streets, divide our parks and disrupt our local neighbourhoods

Surrey has admitted that the proposed LRT will create massive congestion on city streets throughout Guildford, where the LRT system will result in the removal of two traffic lanes on 104th Avenue, the primary arterial corridor connecting Surrey's City Centre with the Trans Canada Highway. On top of this, the City also estimated that commuter routes parallel to 104th Ave will be "approaching capacity" after just 7 years.
As a result of the LRT projects, the city has pushed for a number of roadway and infrastructure projects that will divide important city parks and green spaces, such as Hawthorne Park and Green Timbers Urban Forest.
These projects will also have numerous impacts on the local communities; in one situation, the Surrey School Board drew considerable public ire to the LRT project when they found that an LRT-related road project will cut through an local school's playing field and surround it on all 4 sides with roads. In retaliation, the School Board has demanded that the City provide funding for a relocated school, an expenditure that will cost city taxpayers millions of dollars.
7 – Experts across the country are advising against it
Across the country, more and more prominent groups and individuals are adding their voice to the hundreds in our community advising against this LRT. Well-connected individuals are suggesting that the experts they have talked to do not favour this LRT project.
Recently, an independent study from the University of Calgary's School of Public Policy determined that SkyTrain from Surrey to Langley had the best business case of any project, and suggested that the Surrey-Newton-Guildford LRT should be built as a Bus Rapid Transit line instead. It also suggested that Surrey's approach to planning this LRT system is the wrong approach to planning all rapid transit systems:
Generally, Iacobacci says factors directly relating to transportation and the environment, in relation to the construction and operating costs, should be the main determinants of BCR.

"Most of the economic-development impacts cannot be incorporated as benefits into the BCR calculation," he said. "This is the case for both standard economic impacts and land value impacts, both of which cannot be considered incremental in that they would likely have occurred even without the project."
8 – It will be one of the most expensive mistakes in our region's history

At capital costs that were last estimated at $2.6 billion, the full Surrey LRT system will become one of the most expensive mistakes in our region's history. To give you some perspective, this is more money than it cost to construct the 10-lane Port Mann Bridge and entire Highway 1 widening project ($2.46 billion).
At these costs, which are approaching $100 million per km, the project costs of this LRT system are now also approaching those of our previously-built SkyTrain expansions, such as the Canada Line ($104 million per km) and the Millennium Line: Evergreen Extension ($121 million per km).
On top of this, LRT will also saddle taxpayers with millions of dollars in ongoing operating debts once it is built and in operation. These operating deficits could pose serious challenges for a long-needed expansion to bus services in our part of the region.
---

SkyTrain for Surrey
 is a local grassroots organization calling for a SkyTrain and Bus Rapid Transit (BRT) network instead of the currently-proposed on-street Light Rail system in Surrey. Our campaign has called on decision-makers to build the
Langley Extension of the SkyTrain Expo Line
, in conjunction with an
extension of the 96 B-Line
to Coquitlam Centre and White Rock as a
Bus Rapid Transit
system.
For further information, contact:
Daryl Dela Cruz, Founding Director
Phone: +1 604 329 3529, info@skytrainforsurrey.org
Eight things to know about Surrey LRT