IMMEDIATE RELEASE – June 3, 2017 – Surrey, BC
REALITY CHECK: The City of Surrey wants you to believe that the proposed roads that cut through Hawthorne Park are not a result of Surrey's short-sighted and problem-riddled plan for street-level Light Rail. Here is what we think about the recent statements by City staff:
City of Surrey: The roads were originally identified in the 1980s
...and plans were reversed in the 1990s. The Official Community Plan that was instated in 1996 (and in effect until 2014) does not show the roads on the plan's major roads map.
City of Surrey: The 105 Avenue Connector has been in the 10-year plan for the past 2-3 years.
The City has been pushing for Light Rail on 104 Avenue for the past 6 years. Any planning conducted since then for the 105 Avenue Connector has fully considered the LRT proposal on 104th and the proposed reduction in 104 Avenue traffic capacity from 4 lanes to 2 lanes.
City of Surrey: Underground utilities and water mains will be moved from 104 Avenue to new 105 Connector, in anticipation of Light Rail on 104th.
We see this as an admission that the 105 Avenue corridor is required by the LRT project.
City of Surrey: Synergies are the connection between this project and LRT on 104th.
LRT will not improve transit travel times or increase ridership in Guildford. If the synergy is the need to accommodate continued growth in vehicle traffic, this statement is true.
Clearly, LRT on 104th Avenue is the only reason a road needs to be built through this park.
Read our previous statement: LRT proposal cuts city parks in half
Sign the petition to Save Hawthorne Park: https://www.change.org/p/save-hawthorne-park/
Voice your opposition!
SkyTrain for Surrey is urging our over 2,300 campaign supporters to attend the City of Surrey's information meeting on June 7 and voice opposition to the project.
Location: Guildford Park Secondary School, 10707 146 St
Date & Time: Wednesday, June 7, 2017 - 5:30 PM - 8:30 PM
---
Appendix A: Major Roads Map from 1996 OCP
The 1996 Official Community Plan (OCP) was adopted by the City in 1996 and remained in effect until 2014. It is available on the City of Surrey website at www.surrey.ca/city-services/1318.aspx.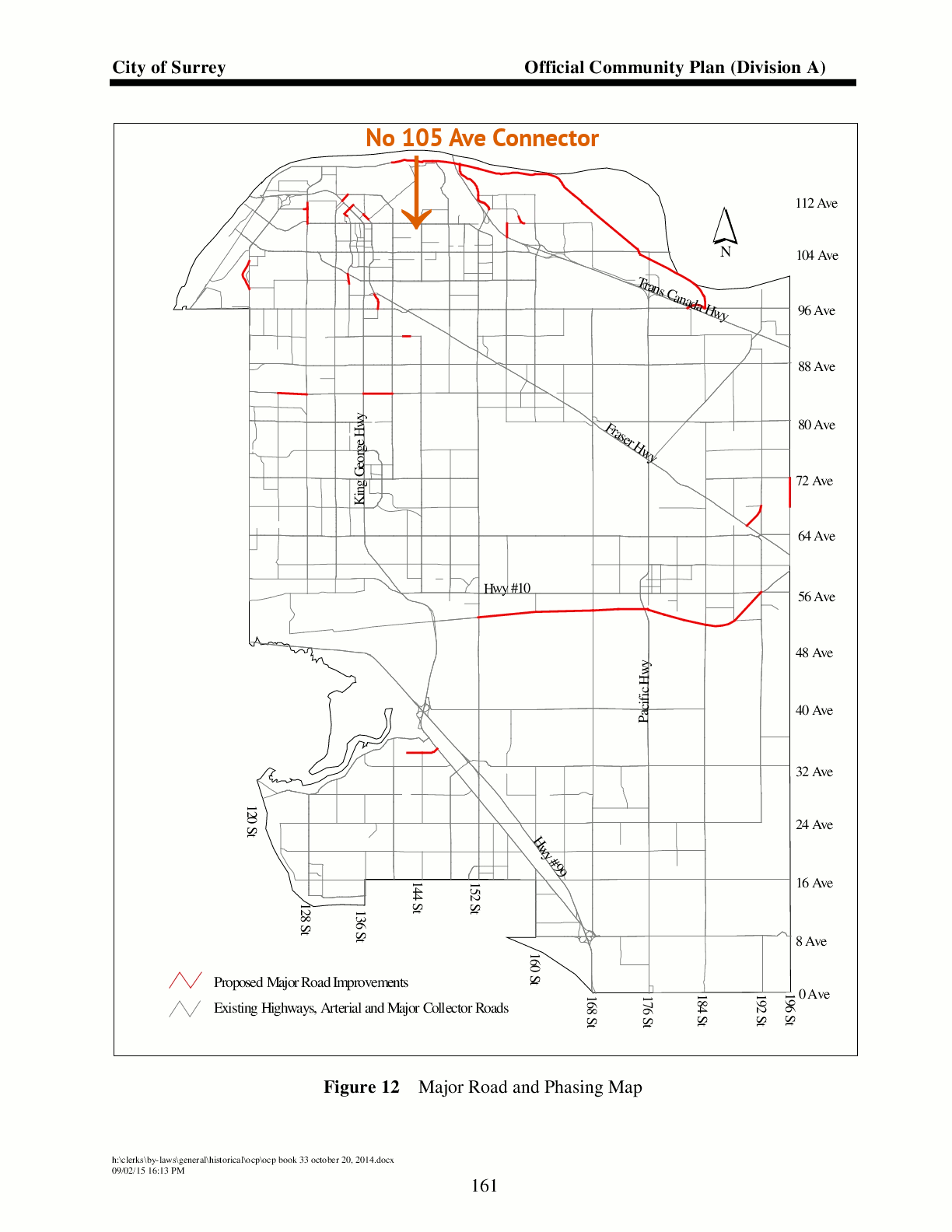 ---


SkyTrain for Surrey is a local grassroots organization calling for a SkyTrain and Bus Rapid Transit (BRT) network instead of the currently-proposed on-street Light Rail system in Surrey. Our campaign has called on decision-makers to build the Langley Extension of the SkyTrain Expo Line, in conjunction with an extension of the 96 B-Line to Coquitlam Centre and White Rock as a Bus Rapid Transit system.
Our campaign directors: Daryl Dela Cruz (Surrey, chair), Jacky Au (Surrey), Spencer Whitney (Langley)

For further information
Daryl Dela Cruz, Phone: +1 604 329 3529, info@skytrainforsurrey.org
LRT is the only reason for proposed road through park